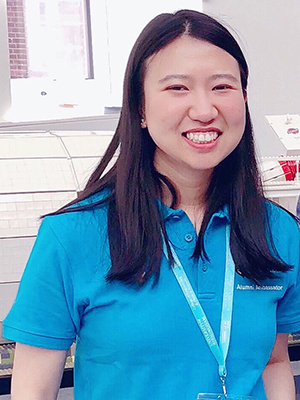 We are delighted to announce that the University's Development and Alumni Relations Office has named Xilin Dai as Volunteer of the Month for February 2021.
Xilin graduated in 2017 with a BEng Civil Engineering with Year in Industry and now works at Mott MacDonald, specialising in highways engineering. She has volunteered with the School of Engineering since she graduated and is one of our most frequent and enthusiastic Alumni Ambassadors!
Over the last four years she has become a mentor to current students, attended outreach events enthusing local school pupils about science and engineering, and been filmed for a profile interview. She's passionate about sharing stories from her own university experience and has appeared at no less than six Open Days, chatting with visitors and offering advice. Xilin is also keen to encourage everyone to make the most of the hundreds of opportunities the University offers and regularly speaks at events for engineering offer-holders or careers speed-networking with students. Most recently, she joined international engineering applicants to answer their questions studying on the UK.
Here's what Xilin had to say when she received her accolade:
I am currently an Assistant Project Manager and a Graduate Civil Engineer at Mott MacDonald, a global engineering, management and development consultancy. I am also a career mentor as part of the Careers Network Mentoring Scheme that supports University of Birmingham students to gain real insight into their chosen industry, and an Alumni Ambassador for the College of Engineering and Physical Sciences.
Since graduating in 2017, I have volunteered and continue to volunteer in various ways. I have been volunteering on the University Careers Network Mentoring programme, where I share my experiences of being a civil engineering student at the University and my engineering career path so far. I have also been assisting the University Open Days, Engineering Application Events and outreach activities as an Engineering Alumni Ambassador, sharing my insight into the career options available to graduates with an engineering degree from Birmingham, and to encourage students from all social backgrounds to consider engineering as a career.
When I was a student at Birmingham I received a lot of support. For this, I am truly grateful. Now I feel it's time for me to give something back to the University and to the students that currently study there. I wanted to celebrate the experiences I had at the University and also support students to find a future career that suits their strengths and interests. I wanted to show them the opportunities that are available, which are not just working in engineering.
Volunteering is something you will never regret doing. So why not have a go; I am sure you will enjoy it!
It's a genuine pleasure working with Xilin and we cannot thank her enough for everything she does. Thank you Xilin!
More information on the University's Volunteers of the Month can be found on the Alumni website. If you'd like to get involved please email Grace Surman to get started.