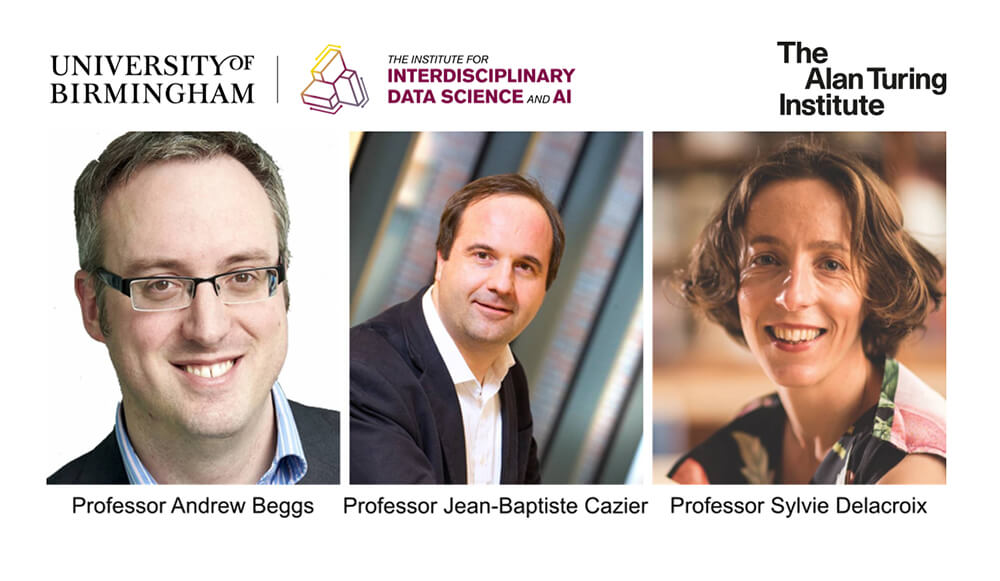 Welcome to DATA@Birmingham (Data science & Artificial intelligence and Turing Activities) newsletter, bringing the University's activities with the Alan Turing Institute into the Institute for Interdisciplinary Data Science and Artificial Intelligence.
Applications are now open to eligible candidates wishing to become Turing Fellows at The Alan Turing Institute for the 2021-2022 academic year.
Call opens: 12 May 2021
May drop-in session: 26 May 2021, 12:00 - 13:00
June drop-in session: 1 June 2021, 12:00 - 13:00
Call closes: 23 June 2021 (at 23:59 BST)
Fellowships start date: 1 October 2021
Open to: Researchers employed at one of the 13 Turing university partners
Both the Turing and the Institute for Interdisciplinary Data Science & AI (IIDSAI) are committed to building a diverse network of Fellows and encourage applicants from a wide range of backgrounds to apply.
The fellowships are offered on a 12-month unfunded basis with various benefits that being part of the Turing's vibrant, interdisciplinary, and collaborative research community brings. All fellowships will commence on 1 October 2021.
The call is open to new applicants, and current Turing Fellows are eligible and encouraged to apply: the University will be able to appoint up to 35 Fellows.
Interested applicants with queries should first read the call document and FAQs on the applicant page (link above) and then contact Professor Iain Styles, Turing University Lead, or Nathaniel Byrne, University Liaison Manager.
Professor Styles will be running two drop-in sessions via Zoom between 12pm and 1pm on 26th May and 1st June, please email him to attend. A channel for questions has been opened on the IIDSAI Network on Teams, please contact Nathaniel for access.
You can find more information about The Alan Turing Institute here.
The Alan Turing Institute is partnering with the University of Birmingham to deliver a Data Study Group (DSG).
DSGs are intensive, collaborative hackathons that bring together organisations who provide real-world problems and datasets to be tackled by carefully selected researchers who brainstorm and engineer data science solutions. You can find out more about Data Study Groups here.
These events are a fantastic opportunity for early career researchers to rapidly develop their data science skills using real-world data. The event also offers participants the chance to forge new networks for future research projects and build links within The Alan Turing Institute, its university partner network, and industry. PhDs, postdocs, those with equivalent non-traditional qualifications/experience and other early career researchers are encouraged to apply.
Please note that due to ongoing COVID-19 precautions, the July 2021 Data Study Group will run remotely over three weeks with optional precursor events during the first week and the study group over weeks two and three. For full details of this format, including the time commitment involved, please visit the latest Turing event page.
Full details, including information on the Challenges and how to apply will be circulated in due course. In the meantime, if you would like any more information or have questions about the DSG, please contact Kim Ekste, DSG Project Manager.
The first in a series of free events in which the University of Birmingham's current cohort of Turing Fellows will present the work done during their Fellowship. In this first session, we will hear from:
Professor Sylvie Delacroix, whose talk on "Bottom-up data trusts: disturbing the one-size-fits-all approach to data governance" will explain how data trusts can enable data to be shared for personal or public benefit without exposing individuals, communities and society to harms resulting from data misuse
Professor Andrew Beggs, who will explain how his Turing fellowship has helped contribute to the UKs COVID-19 fight in his talk "From molecular diagnostics to image AI: How a Turing Fellow got repurposed".
Professor Jean-Baptiste Cazier, whose fellowship project became part of the UK Coronavirus Cancer Monitoring Project that is assessing the impact of COVID on cancer patients.
More information and registration details for the event can be found here.
The Data Science and Computational Statistics Seminar series is jointly between the School of Mathematics and the School of Computer Science at the University of Birmingham. Seminars are scheduled for Tuesday afternoons. Upcoming seminars:
25 May 2021, 15:00-16:00, Backtrackless walks on a graph, Furqan Aziz (University of Birmingham)
8 June 2021, 15:00-16:00, Convergence, Robustness and Flexibility of Gaussian Process Regression, Aretha Teckentrup (University of Edinburgh)
22 June 2021, 15:00-16:00, Yulong Lu (University of Massachusetts)
6 July 2021, 15:00-16:00, Unbiased Inference for Discretely observed Hidden Markov Model Diffusions, Neil Chada (King Abdullah University of Science and Technology)
20 July 2021, 15:00-16:00, Allen Hart (University of Bath)
For more information and links to the talks, please visit the Seminar page on Talks@Bham.
The Turing is committed to working flexibly and staying connected. You can watch highlights of our past events at the video archive on YouTube.
The Tools, Practices and Systems monthly seminar brings together researchers, data scientists and software engineers across the Turing and beyond to connect and discover the latest in open research and infrastructure from a mix of internal and external speakers.
Tools, Practices & Systems will be hosting Kaitlin Thaney, Executive Director of Invest in Open Infrastructure, an initiative dedicated to improving funding and resourcing for open technologies and systems supporting research and scholarship. She'll be giving an overview of the work IOI is doing to support open, community-owned infrastructure. Book your place for May's seminar here.
Thursday 27 May, 15:30-17:00. Confronted with the new infrastructures of data colonialism, which perpetuate old racial, gender and class injustices, we must learn from past and present anti-colonial and anti-racist movements and thinkers. Decolonising our data in this context means developing new strategies for resisting the new extractivist order, and for re-imagining internet governance and the digital commons.
Find out more and register for Data as an Instrument of Coloniality.
Tuesday 8 June, 15:00 - 16:30. René Vidal is a 2021 Edward J. McCluskey Technical Achievement Award winner, for "pioneering contributions to subspace clustering and generalized principal component analysis with applications in computer vision and pattern recognition". Reserve your place at June's Turing Lecture here.
Wednesday 9 June 2021,12:00 - 13:00 In this special event, Turing Fellow and Women in Data Science and AI project lead, Judy Wajcman, will host a fireside chat and audience Q&A with Kate Crawford to uncover the damaging effects of the global networks underpinning AI technology, and how our technical systems are designed to serve and intensify existing systems of power, as detailed in Kate Crawford's book 'Atlas of AI'. Find out more and reserve your place here.
To mark the release into circulation of the new £50 banknote in his name, and his 109th birthday (both 23 June), The Alan Turing Institute is hosting a virtual panel discussion exploring the life and legacy of Alan Turing to find out why he still means so much, to so many. You can register to attend and find out more information here.
HDR UK are seeking to appoint a part-time Associate Director to provide leadership for the PhD programme under the mentorship of the Programme Director and in conjunction with academic representatives from our partner universities. We are particularly interested in an Associate Director who can provide expertise in either Artificial Intelligence (encompassing machine learning, computational statistics, etc) or the Biomedical and Clinical Sciences. Find out more and apply here.
SMQB are seeking three individuals with a strong background in one or more of dynamical systems, complex networks, parameter inference (including Bayesian methods), machine learning and artificial intelligence, clinical data analytics and visualisation, advanced (medical) imaging, diagnostics and clinical decision support systems. If you are curiosity driven, seeking to further develop your quantitative skills and want to tackle some of the most pressing healthcare and societal challenges, then you can apply and find out more here.
Hosted by the University of Southampton, UK, delivered online
The 13th ACM Web Science Conference (WebSci'21) is an interdisciplinary conference where a multitude of research disciplines converge with the purpose of creating a greater insight into a complex global Web than the sum of their individual parts.
Visit the conference website for more details.
This year's Royal Statistical Society International Conference will take place from 6-9 September in Manchester. The conference welcomes all statisticians and data scientists, and regularly attracts around 600 participants from over 30 countries.
You can also stay connected to the Turing via: Twitter, LinkedIn, Instagram and Facebook.
Thanks for your continued support.