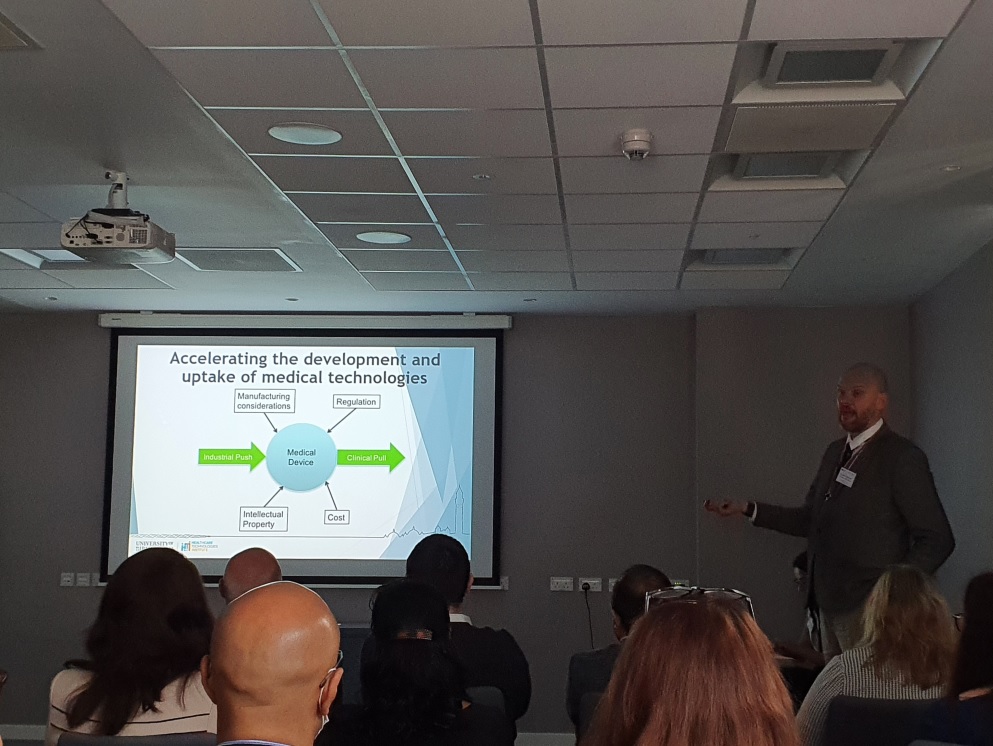 On Monday 1 November, the Demand Hub (data-enabled medical technologies and devices hub) held an SME engagement event; Innovation in MedTech (Products and data).
DEMAND Hub (Data-Enabled Medical technologies ANd Devices Hub) is an ERDF-supported programme for the Black Country, Greater Birmingham and Solihull, Coventry & Warwickshire, and Stoke-On-Trent & Staffordshire LEP regions.
The event brought together experts from academia, industry, funding bodies and Companies from across the Midlands looking to enter the healthcare market and provided delegates with the expertise to enable them to take a technology forward from early-stage research to a commercialised product.
Professor Liam Grover, Director of the Healthcare Technologies Institute opened the event with an introduction to the Institute followed by an overview of the expertise Medical Technology and Healthcare Technology companies within the region can access.
Delegates then heard from academics working within the field of medical technologies, including;
Dr Richard Williams, Research Fellow and Co-Deputy Director of the University of Birmingham and Southeast University Joint Research Centre for Biomedical Engineering who spoke about the product development support Demand Hub can offer to SMEs.
Dr Samantha Cruz Rivera, Research Fellow from the University of Birmingham who spoke about the use of patient-reported outcomes (PROs) and how they can improve health related quality of life.
Professor Tom Clutton-Brock, Professor of Anaesthesia and Intensive Care Medicine at the University of Birmingham who gave an overview of the Medical Devices Testing and Evaluation Centre and support they are able to offer Medical Technology companies.
Suzy Gallier, Technical Director of PIONEER – HDR UK Health data Hub in Acute Care who spoke about how PIONEER is supporting the innovation of medical technologies with data, development, and collaborations.
The next session included talks from local SMEs who are working to commercialise a technology along with experts who can support companies interested in taking a technology forward, including;
Mr Drew Currie, Founder of Vitabonna Development Limited spoke about their development of an innovative topical foot pain-relief spray and the support the Healthcare Technologies Institute and Demand Hub have provided to support the development of a prototype.
Danielle Checketts, Managing Director of Warwick Med Eco Ninjas introduced delegates to their innovative solutions to improve the sustainability of hospital uniform worn by clinical staff by creating an alternative to disposable hats.
Isobel Ferguson, European Patent Attorney from Marks and Clerk who provided SMEs with advice on protecting their intellectual property (IP) to maximise the value.
Sander ten Veldhuijs, Senior Business Advisor at Innovate UK EDGE Midlands covered the support Innovate UK EDGE provide to drive economic growth by investing in innovative businesses.
Ana Madan, Serendip Incubation Manager at Bruntwood SciTech and Reena Sidhu, Commerical Enterprise Lead (Digital Health Innovation) spoke about how the incubator creates opportunities to accelerate the growth of tech and digital start-ups.
Delegates then received information from local LEPs on the support offered within each region (Greater Birmingham & Solihull, Coventry & Warwickshire, Black Country and Stoke & Staffordshire) and how they can access this through projects such as Demand Hub.
The day concluded with a networking lunch which enabled delegates to meet experts within the industry, engage with the support covered in presentations and discuss potential areas for collaboration.
To find out more about more about future Demand Hub opportunities, please contact Mr Derek Sear