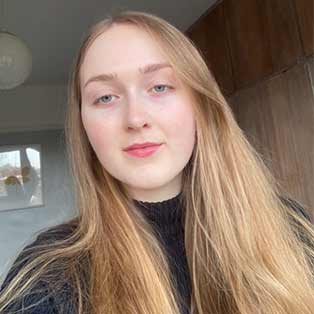 BA Classical Literature and Civilisation student Daisy Drennan tells us about studying at the University of Birmingham.
My name is Daisy Drennan. I am a second year Classical Literature and Civilisation student from Birmingham.
I attended Open Days for several universities that offered the same or a similar course, and the University of Birmingham stood out for how engaging and fun the lecturers are. They genuinely love the subject and are excited to share it with students.
My favourite module on the course so far has been a second year archaeology module titled 'Human Remains: From Forensic to Display'. It was completely different to anything I had studied before, or thought I would get to study, but the department's interdisciplinary approach to learning made it possible. The module was incredibly interesting, and the scientific aspect made for an exciting challenge from studying only literature and history.
I studied history at A Level, but not Classical Civilisations, or anything Classics related. I was concerned that I might be behind my fellow students because of this, but the first year mandatory modules in Greek and Roman history and literature ensured that that wasn't the case. The work at university is more source-based than that at A Level, which takes a little getting used to, but ultimately makes you engage more fully with the material and forces you to draw your own interpretations, rather than simply accepting those that you are told.
The hardest aspect of the course for me was adjusting to the workload. Unlike in secondary school and A Levels, you are responsible for your own learning which includes managing the time you spend reading, doing seminar work, and writing essays. Fortunately, after a little time in the University environment with other students having to do the same, it becomes easy to adapt and you become better at managing and organising your time.
Due to Covid-19 we were unable to undertake our Study Tours abroad, and so instead, the department head and lecturers in charge of the Study Tour, arranged a series of lectures with various museums, historical sites, writers, scholars, and poets. It showcased several really insightful and interesting ways of engaging with the classics, but the highlight was a tour of the British Museum's vaults with one of the institute's curators.
The main society linked to my course is BACAS - Birmingham Ancient History, Classics and Archaeology Society. It is a great and inexpensive way of getting to know your coursemates and those in the wider department in an informal setting, as well as giving you the chance to partake in all sorts of fun activities and traditions - for example, the infamous night out on which everyone wears a toga into Birmingham city centre.
The best thing about my course is how genuinely fun it is. The lecturers are brilliant and engaging, the material is interesting and very often funny, and the fellow students are great. The interdisciplinary approach the department takes towards module choices challenges the usually rigid distinctions between classicists, archaeologists, and historians and gives you the opportunity to really explore your interests and study something different and exciting.