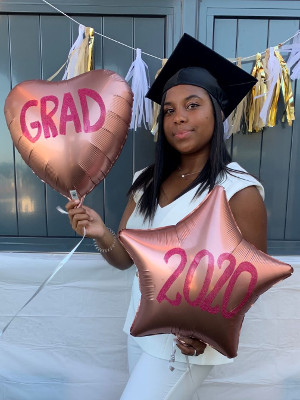 We are delighted to announce that the University's Development and Alumni Relations Office has named Henda Grion as Volunteer of the Month for August 2021.
Henda graduated in 2020 with a MEng Electronic and Electrical Engineering and now works as a Graduate Engineer at Siemens Mobility. She has volunteered with the School of Engineering and wider College of Engineering and Physical Sciences since January 2021 and has been a wonderful Alumni Ambassador, particularly for international students.
In just six months Henda has already attended several recruitment events for international students considering applying to the University, all of which were hosted online so she was able to speak to people from all over the world. She was also one of our first alumni to join our Dubai Campus, virtually speaking at their first Careers Conference in March. She's even filmed a video of herself for our website, sharing advice for students about to join the University.
Here's what Henda had to say when she received her accolade:
As an Alumni Ambassador, I was invited to share my experiences with applicants to the University of Birmingham based overseas and considering studying for a degree in the College of Engineering and Physical Sciences. I also participated at the first Alumni-Student Careers Conference at the University's Dubai campus where I shared my career journey, recruitment tips and my insights working in the technology sector.
The University of Birmingham has been my home for the last four years and, without the help, support and opportunities given to me there, I wouldn't be where I am today.
I'm passionate about helping others and raising awareness of the activities that I took part in, which I believe will help students improve their lives just as they did for me. In addition, I'm able to share my journey and the amazing experiences I had during my time, which always brings back happy memories.
My enjoyable moments were at the Alumni-Student Careers Conference where I got to meet two other alumni working in the industry longer than me and hear about their experiences, as well as answer questions from the students.
I would definitely encourage volunteering. My advice is to help out where you can because it can change someone else's life without you knowing it. I believe that volunteering helps growth and, since we are all unique, we can provide help in different ways and everything counts.
I would like to express my gratitude for my nomination as the Volunteer of the Month. Thank you to the University, alumni community and a special thanks to Grace Surman, the Alumni Relations Manager for Engineering and Physical Sciences!
It's been a genuine pleasure working with and getting to know Henda this year. Thank you Henda!
More information on the University's Volunteers of the Month can be found on the Alumni website. If you'd like to get involved please email Grace Surman to get started.