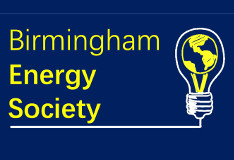 With continuing restrictions this semester, BES have tried our hardest to put on a number of interesting and informative online events carrying on from those in semester one!
To kick off 2021, we welcomed University of Birmingham graduate, Nick Hill, from Atkins who spoke about 'Engineering Net Zero'. The event discussed the urgency around climate change and the accelerated decisions required across the UK government if ambition is to be met with action.
An event we had all been waiting for was delivered by Siemens' Simon Burgess, 'Transitioning to a Net Zero Campus'. After the announcement that the University has teamed up with Siemens to promote decarbonisation on campus, we were all keen to hear more about what is being done. Simon discussed the type of work that will be carried out over the coming years to transition our university to net-zero. We look forward to updates from the University and Siemens surrounding the decarbonisation work!
Ending events for the year, before the onset of exams, was the 'Energy Insight event'. Six networkers from local companies, global corporations and university backgrounds were welcomed to offer insight into different parts of the energy sector. Using breakout rooms on Zoom, students were able to meet and ask questions to industry experts gaining valuable contacts and information about the sector.
Following our AGM, we are looking forward to handing over to next year's committee: Sam, Johanna and Joshua who will continue to deliver more energy related events and campaigns for students in the year to come! Remember we are always keen to hear from you, so make sure to get in touch if you would like to get involved or there is anything you would like to see more of next year.
Nandini Lad
President of Birmingham Energy Society
To find out more about Birmingham Energy Society visit their society website.

There are 41 student groups associated with the College of Engineering and Physical Sciences. To learn more about their projects and activities head to the EPS Societies homepage.