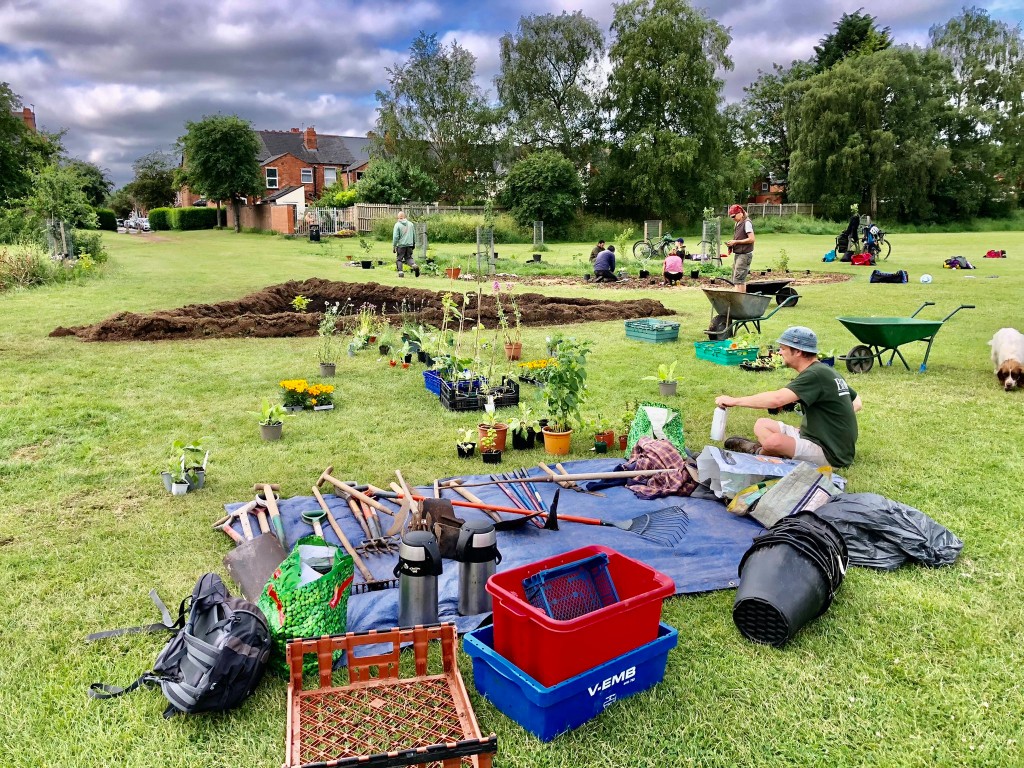 Environmental issues will be hot on the agenda as we look ahead towards the COP26 summit in Glasgow. There will be an array of discussion and dialogue on the global issues such as how to minimise or mitigate climate change, with world leading research providing the facts to navigate change for a better future. However, environmental research is also contributing at a local level which could be valuable for the decision making processes to take place at COP26.
One such example has been the work led by the University of Birmingham called the Engaging Environments Programme. Our project enabled new ways of understanding and supporting communities and researchers to bolster the emergence of collective responses to contemporary environmental change. Together in partnership with our project partner Citizens UK where community organising goes hand in hand with our responsibility as a civic university our research team worked directly with people on the ground on what the neighbourhood perspective is towards a healthier environment. Solutions were also shared to help shape environmentally friendly transport plans and better use of green space use.
Our research undertook the Citizens UK model of broad-based community organising for change to produce a fairer society for all. From our work with Citizens UK and other partners we not only gained valuable information we had also enabled local communities in Birmingham to build agency. Community groups were empowered to act on environmental issues which was developed by the partnership between community and environmental science researchers who held the common cause of looking at ways to improve the environment whether through research or action. The research also combined a people-centred approach which lowered the barriers to engagement and participation for both communities and researchers.
Our research also gained much experience on using the skills of community organising in order to understand people's motivations, analyse power dynamics of institutions and build trust to make impact on a local level. Not only did we understand the issues related to the local environment but this model of research partnerships gave us a model of collaboration between diverse communities, the NERC research community, practitioners, public-facing organisations, and environmental NGOs to advance open science in the UK.
Even though our premise was to work with communities towards environmental research we also learnt how this form of action can assist us in our role as a civic institution. Universities are seen to teach students. The undertaking of research is less appreciated, especially by those who have never been to a university, which stands at 77% in Birmingham, and up to high 80% in many wards of the city. As such the employees of a university represents, a researcher's area of expertise is often secondary to this representation.
So how then, can a highly specialised academic contribute directly to a civil society? There is significant value in community perspectives and policy actions can be viewed through this lens. For example we also learnt how there is an environmental and geoscience connection to social housing and the possibility of built in energy efficiency and reduced energy costs, and the associated climate change benefits. Community organising practices present a way for a large research-led, anchor institutions to increase self-awareness of the positive role the institution can play in acting together with communities, and make the life of its fellow residents better.
As academics we are used to collaborating with allied academic disciplines, sometimes with very different disciplines where we feel this will create the most impact or deliver the most change around policy or understanding. Community collaboration co-produced in an equitable way can provide a further form of collaboration that can lead to change for the common good. In community organising there is a maxim "you only get the justice you have the power to compel". Power here relates to 'relational power', power alongside others and broad-based community organising provides a model to do this with a range of faith, education, community and business partners.
COP26 needs to turn ambition into action. To do this we need to value researcher-community collaboration. For environmental policies to be truly transparent and to inspire the ambition into action that is needed then the research agenda needs to be shared with those who are directly affected. Community organising builds relational power. To enfranchise people with a stake in the environment, our air, resources, energy, climate, then we need to play a role in civil society, work with local institutions and people, listen and act both locally and globally. Invest in this approach: like all good investments it will pay off.