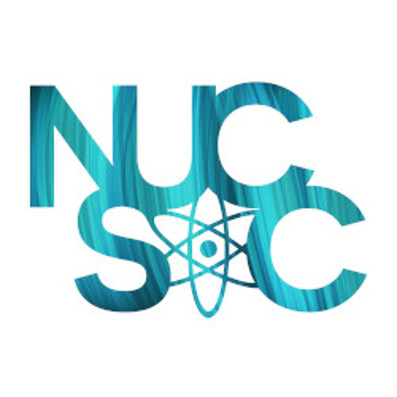 With the ever-changing social distancing rules and the high workloads of Final Year committee members, we've had to decrease the number of events we've offered this term – but that hasn't stopped NucSoc!
In March, we hosted 'NucSoc does Networking' as a part of the EPS 'Meet Your Alumni' series, where we invited a range of alumni working in the nuclear industry to share their journeys' since graduating. We had a wide variety of speakers attend from companies such as: the UK Atomic Energy Authority, Fraser Nash Consultancy and EDF Energy. This included graduates from both the Schools of Physics & Astronomy and Metallurgy & Materials, allowing for a range of experiences and career paths to be discussed. The event was a big success with 94% attendance! We hope that this gave our members a useful glimpse into the nuclear industry, and helped them explore their career options.
We have also continued to run some virtual quizzes over the year as part of the NucSoc family scheme. The last one ended in a three-way tie, with a dramatic deciding question to crown the winner! It's been great to bring together the NucSoc members for some healthy competition during such a challenging year. We're very much looking forward to things opening up again so we can get back to hosting our regular events like the infamous 'NucSoc vs BUMS' socials and of course the annual Winter Meal.
It sure has been a strange year, but we've pulled through and as a committee have continued to provide enriching events for our members. Over the summer and into the next academic year we'll be passing on the torch to the new NucSoc committee who we have no doubt will do a fantastic job. A massive thank you to the outgoing committee for all of the fantastic work you've done this year – it's been a tough one but we pulled through together!
We're very pleased to share that the NucSoc 2021-21 committee are:
President - Adam Jackson
Vice President - Karim S Bakkar
Social Secretary - Alex Booth
Careers and Outreach Rep - Dylan Wheeler
In October we'll be running an EGM to elect the remaining positions of the committee so keep a look out for that announcement. In the meantime, feel free to reach out to us on Facebook or follow us @NucSocBham on Twitter and Instagram.
Before we sign off for this year we would like to congratulate our Diversity and Inclusion Rep, Avery Cunningham, who won the Great Achievement in EPS award at the EPS Societies' Awards 2021. Avery has been an integral part of the NucSoc community for six years and it's fantastic to see his many contributions to NucSoc, the EPS community and beyond being recognised at such a high level. NucSoc will miss him immensely as he steps down from committee this year and we wish him all the best for the future!
We hope you all have a wonderful summer and best of luck to the NucSoc 2021-22 committee – it won't be long until we can all see each other again!
Dylan Wheeler and Molly Service
Outgoing President and Vice President of NucSoc
To find out more about NucSoc visit their society website.
There are 41 student groups in the College of Engineering and Physical Sciences. To learn more about their projects and activities head to the EPS Societies homepage.