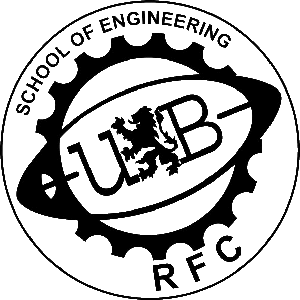 With life returning to normal as much as possible, the year began with a hectic scramble to organise as many rugby games as possible to make up for time lost last year with our brand-new student run committee.
A big recruitment push at the start of the term led to around 40 new lads joining from a range of university courses and years, making the Club total more than 90 members and one of our biggest recruitments ever! It's been a tough year for the Club finically as we have been completely self-funded for the past couple years, but this didn't stop the committee scoring sponsorships with Deliveroo and Rapid Solutions who provided everyone with brand new Wet Tops, as well as enabling us to pay for pitch and referee hires. Thank you to our new sponsors!
The first fixture of the season was the annual Warwick Freshers game that put our new recruits to the test against a formidable Warwick side. The match ended in a draw, but we would like to make a notable mention to three Freshers who stood up and took charge in this game: Ben Suter, Sam Read and Dan Newman.
Big thanks to the Eagle and Bull for hosting us for a great evening of pizza where the new lads received their club ties and welcomed into the Club by myself and former Chairman, Samraj Chahal. It was a great evening for everyone and a pleasure to see new and current members integrate so well together.
The School of Engineering 1st XV season started with 2 losses (but we won't talk about those!) but has since worked its way into producing our biggest win in the Club's history. We have had new members step up to the plate in spectacular fashion with the likes of Sam Read and Dan Newman having had a sensational start to the season. Ed Ewens – our only prop who isn't strictly a prop – has played every second of every game this season and has had by far his best season of his university career! These are just three people amongst a whole squad who have put everything into each game.
Just before Christmas we hosted a double-header fixture against the University's RFC 2s and 4s. We won both games in front of 200 fans which was unbelievable moment for the Club This has been the best term of rugby I have been a part of and hope it continues into the New Year.
The School of Engineering 2nd XV also had a really successful semester. The standard of rugby has increased week- on-week, leading to several big wins for the team. Most notably against the University 4s who previously had beaten us at the start of the season. Special mentions go to Owen Young who is our leading try and point scorer, as well as Alex Pearson and Sean Pocknee for having standout seasons so far. We are very pleased with our progress so far and are looking forward to what the next semester has to offer.
An annual tradition for the club is to show our support for the Movember charity where 70 of our members attempted to grow their best moustaches to raise awareness for men's mental health. In the process we raised £2,463, the most out of any sports team or society at the whole of the University, with our Social Sec Tomas Brown contributing £198 himself!
Big news for the next term: our tour committee have organised another mystery tour in March. Speculations from members past and present have Benidorm as the favourite right now. We shall have to wait and see…
Finally, I would like to thank all members of the 'best club in the world' for arguable one of the best and exciting terms in club history. But more specifically I'd like to thank the committee who have worked tireless to ensure everyone has had a great term. Our Treasurer, Wilfred Nokes, has been working constantly to manage the Clubs' books and ensure we are finically stable. Thanks also to the Fixture Secs and both Team Captains for providing a high level of fixtures, and to our Social Secs for sorting some great socials for us.
As Chairman of this Club, I'm hugely proud of what we achieved this year and how much the Club has developed in the last couple years.
I hope you all have a wonderful Christmas and a very happy new year!
David Hudson
Chairman, School of Engineering RFC
To find out more about the School of Engineering RFC visit their society website.
There are 41 student groups in the College of Engineering and Physical Sciences. To learn more about their projects and activities head to the EPS Societies homepage.