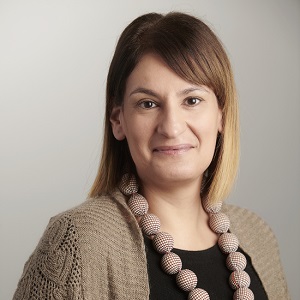 Dr Maria Michail, lead of the suicide and self-harm research group at the Institute for Mental Health has been awarded a three-year Marie Skłodowska-Curie Actions Global Fellowship. Working with Orygen in Melbourne, Australia and The University of Birmingham, Maria will be exploring how systems modelling and simulation can inform strategic decision making for suicide prevention in young people aged 12-25.
Dr Michail explains, "This fellowship will enable me to expand my research into mental health and suicide prevention. I will be exploring new approaches such as participatory action research and simulation modelling, to help address some of the most pressing and, so far, unsolved questions in suicide prevention: What interventions can effectively and efficiently reduce the increasing rates of suicide and attempted suicide among young people?"
Dr Michail's research is now timelier than ever, as research demonstrates that COVID-19 has had a sustained impact on young people's mental health across the world.
The fellowship will be centred on the SEYMOUR project. SEYMOUR offers a new model for guiding the rollout of national and global youth suicide prevention strategies, by 'system dynamics modelling' (SDM). SEYMOUR will develop and evaluate a new SDM that will demonstrate which suicide prevention interventions could generate the most significant reductions in suicide rates among young people aged 12-25. This will include an 'implementation blueprint' to enable the adoption of the SDM as a decision-making tool in youth suicide prevention policy and practice, in Europe and globally. This project brings together expertise from psychology, public health, implementation, system science and policy.
Dr Michail will spend the first two years of the fellowship with Orygen, University of Melbourne; the world's largest translational research institute in youth mental health and suicide prevention. There, she will work under the supervision of Associate Professor Robinson. Maria will also carry out a research visit at the Brain and Mind Centre, University of Sydney where she will work in collaboration with Associate Professor Jo-An Occhipinti, Head of Systems Modelling, Simulation & Data Science. Maria will return to the University of Birmingham for the third year, working under the supervision of Professor Waring (Health Services Management Centre), a world-leading expert in implementation of healthcare.