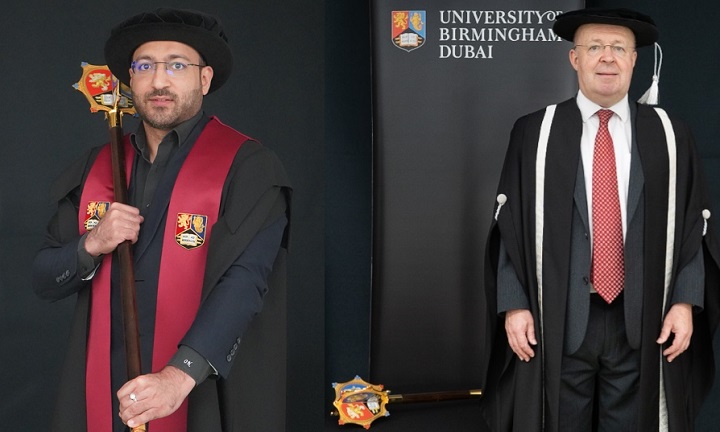 The first undergraduate students at the University of Birmingham's campus in Dubai have 'received' their degrees in a special online ceremony.
Attending the virtual event gave the successful students the opportunity to mark their academic success as their names were read out.
University of Birmingham Vice-Chancellor Professor Sir David Eastwood gave a video welcome address to open the proceedings.
University of Birmingham Dubai Provost Professor David Sadler addressed the graduating students and there were video speeches from University of Birmingham Chancellor Lord Bilimoria and a live video link address from Professor Stephen Jarvis, Head of College of Engineering and Physical Sciences, connecting Birmingham and Dubai for the ceremony.
The students graduated in Business Management, Economics and Mechanical Engineering, receiving Bachelor of Engineering degrees and Bachelor of Science degrees.
University of Birmingham Dubai Provost Professor David Sadler commented: "It is wonderful to see our first cohort of undergraduate students graduate. Our programmes give students in Dubai the opportunity to achieve University of Birmingham degrees, whilst experiencing the same teaching and study methods enjoyed by the students on our UK campus.
"We are immensely proud of our graduates - just as in Birmingham, we want our Dubai students to graduate as high-achieving and employable problem solvers, so we make sure our academic offer delivers the experience that every student needs to develop and grow."
The University of Birmingham Dubai offers foundation, undergraduate and postgraduate programmes across a range of areas.
As the first global top 100 and UK Russell Group university to establish a campus in Dubai, the University of Birmingham Dubai delivers the highest-quality education underpinned by a growing research focus in a leading global educational hub.
Designed to reflect real-world working practices, the University of Birmingham Dubai's new campus will open this autumn and encourages students to carry out research in interdisciplinary teams across all academic subjects. Flexible study spaces ensure students have a learning environment suited to their needs; whether in large lecture theatres and laboratories or smaller seminar and tutorial rooms.
With architecture inspired by the historic Aston Webb buildings on the Birmingham campus, the Dubai facilities use shaded open-air courtyard spaces to create an enjoyable and productive student experience. The buildings sit next to parkland offering sports pitches and an open air event space, whilst new student accommodation is a short walk away, across the parkland.
For more information, please contact Tony Moran, International Communications Manager on +44 (0)782 783 2312. For out-of-hours enquiries, please call +44 (0) 7789 921 165.
The University of Birmingham is ranked amongst the world's top 100 institutions. It was established by Queen Victoria in 1900 as Great Britain's first civic university, where students from all religions and backgrounds were accepted on an equal basis.
The University is renowned for its research excellence and its researchers have received 10 Nobel Prizes. From pioneering organ transplants, discovering gravitational waves and furthering understanding of Shakespeare, to developing cures for cancer, advances in robotics and revealing the structure of DNA, the University has been at the forefront of some of the most ground-breaking discoveries of the last 100 years.