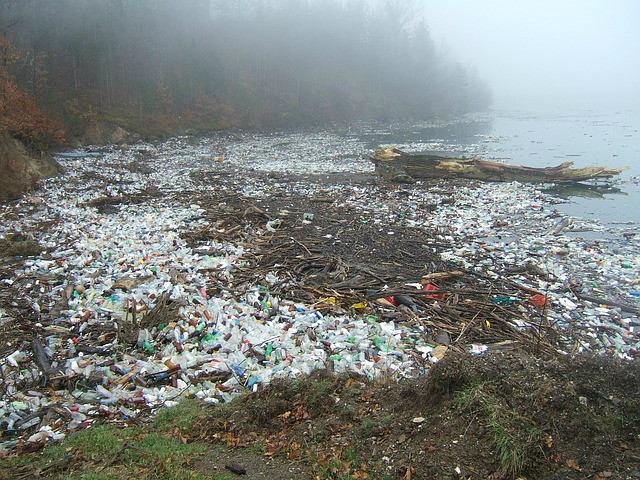 The UK's plastic recycling crisis has received a lot of attention from the media and the wider public recently, including the Greenpeace report highlighting that more than 50% of the UK's plastic waste is being shipped to Turkey and Malaysia, reported by Sky News and featured in the Wasteminister film. The Minderoo Foundations Plastic Waste Makers Index report reported in the Guardian highlighted the UK as the 4th largest producer of plastic waste per capita globally and identified the top 20 companies driving plastic production and the banks financing them. But what you might have missed among the statistics and hype are the facts that: 1) Our obsessive use of plastic is a major driver of the climate crisis, 2) that the UK merrily counts plastic waste shipped overseas as being recycled (despite the fact that technologies for recycling the types of mixed plastic shipped abroad are not yet available), and 3) that the lack of regulation and oversight of plastic waste is leading to a wave of "opportunistic crime in the plastic waste sector, both in illegal trade and illegal waste treatment" as reported by Interpol.
Changes are urgently needed to address the plastic waste management problem that must cut across the entire global value chain. The British Plastics Federation estimates that 46% of the UK's plastic waste is incinerated, 17% goes to landfill, 10% is recycled in the UK and 19% is exported, supposedly for recycling. However, the limited controls on the export of plastic waste and "difficulties in treating and monitoring the plastic waste surplus" have led to increased levels of criminality associated with this trade. The Plastic Amendments to the Basel Convention bring plastics under the purview of the convention from January 2021. However, waste that is (supposedly) clean, sorted and non-hazardous, destined for environmentally sound recycling, can still be exported without Prior Informed Consent by the importing country. The limited traceability of these shipments means we don't know how much waste exported for recycling is in fact recycled, although the recent Greenpeace report suggests this may in fact be low.
The UK's lack of a dedicated strategy to manage our plastic waste, coupled with insufficient development and access to adequate plastic recycling facilities nationally, are a major challenge. The UK's forecasted domestic capacity for recycling plastic packaging is 700,000 tonnes / year (including facilities under construction), equivalent to the amount shipped abroad in 2020. This represents approximately 20% of our estimated annual 3.5 million tonnes of plastic packaging waste. It's clear from the Interpol and Greenpeace findings that, while recycling needs to be a key part of the solution, we can't continue to out-source the disposal or recycling of our plastic waste. As a nation, we need to start living up to our own environmental legacy and dealing with our own garbage. The majority of plastic waste flows are from high-income countries with relatively strong regulations and significant capacity for enforcement to lower-income countries with either less regulation or (more often) less capacity to enforce said regulations. So not only are we exporting our problems, we are exporting them to countries we know are less able to deal with them. Stopping this practice is in our own best interest, as mismanaged plastic waste has become a truly global problem: plastic pollution of the world's oceans, river basins, atmosphere, and food-producing soils represents a global challenge that doesn't stop at state boundaries but distributes our legacy waste around the world.
The development of a "business of the environment" ecosystem spanning the whole plastic value chain would simultaneously counteract illegal plastic trade and environmental destruction including climate change. This requires targeted actions at all stages of the plastic value chain, a re-valuing of waste management and its associated jobs, and reconsideration of what we consider "essential uses" of plastics:
Production phase: Since plastic is currently predominantly produced as a derivative from the oil extraction industry and the top 20 companies producing polymers and plastics globally are oil companies, disinvestment from coal and crude oil supports disinvestment from plastic pollution. A transition to bio-based plastics however brings a new set of challenges that need to be considered holistically across the whole life cycle and as part of the overall food-water-energy nexus.
Product design and manufacturing phases: Plastic is designed to be long-lasting which is essential for many applications such as the plastic coating around electrical cables on household electronics, and for seals in plumbing. However, many applications of plastics are single-use, yet persist in the environment unnecessarily long. Reframing our conceptions of essential uses and phasing-out virgin plastics (e.g., through regulations such as the UK plastic packaging tax requiring all plastic manufactured or imported into the UK to have at least 30% recycled plastic from 2022) are critical steps. This also requires extending the design criteria of synthetic polymers beyond those properties related to their safe and comfortable use (e.g., durability, lightweight) towards their "afterlife" as waste, which includes developing faster degrading plastics, and replacing non-recyclable plastics with alternative materials - particularly non-medical single-use plastics.
End of life, recycling and re-use phases: Large scale industrial solutions including industrial recycling and waste-to-energy plants have their place in addressing the final phase of the plastic life-cycle. However, till now the amount of waste diverted into these solutions is low. We suggest that there are lessons to be learned from informal systems of waste management in countries such as India that are surprisingly effective at diverting recyclable waste from other waste streams (with the significant caveat and recognition that those systems are inherently risky and workers are stigmatised and exposed to pollution and inherently unsafe environments - features we must avoid replicating). Central to these informal systems is a recognition that the plastic waste sector is and should be multi-actor and decentralised. Waste enters the value chain at multiple points and through multiple avenues: informal waste workers; formalised segregation at source and household collection (recycling bins); informal waste aggregators (kabadi wallas) or through waste banks and bottle return kiosks that have been trialled in several countries, and are in place in UK Schools. Having low barriers to entry along the value chain supports innovation (e.g., recent approaches to recycling coffee pods), and indeed in a suitable open market there are numerous opportunities to stabilise the value chain including through social enterprise (e.g., the Body Shop's initiative with waste pickers in Bangalore). An open plastic ecosystem is also more likely to recognise that the value chain covers multiple types of plastic not just PET bottles or straws, and to develop innovation solutions for these.
The forthcoming Environment Bill offers a unique opportunity to set ambitious targets and incentives for all aspects of the plastic value chain, and indeed there are opportunities right now to feed into the government's consultation on household and business recycling (open until 4 July 2021) and to help reframe the discussion around the plastic value chain and an open waste ecosystem.