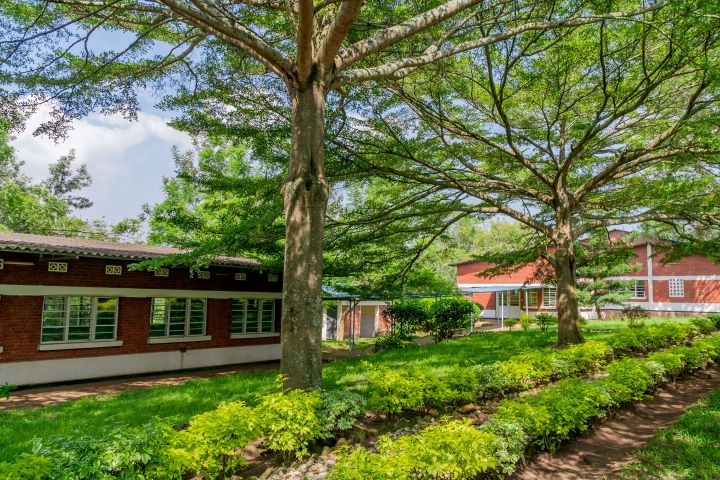 Sustainable cooling experts from around the globe are taking part in a key virtual summit that will give Africa's policy makers and business leaders the tools to help keep farmers' produce fresh and get it to market quickly and efficiently – reducing food waste, boosting profits and creating jobs.
The event supports preparations to open the African Centre of Excellence for Sustainable Cooling and Cold Chain (ACES). As well as helping farmers reach new market opportunities, ACES will improve cold-chains for vaccines and health - bringing together multi-disciplinary UK and African expertise with commercial partners.
The online summit on Accelerating Sustainable Cold Chain in Africa takes place on Tuesday 19 October 2021 – anyone interested in taking part can register.
Hosted by the British High Commission and Rwanda's Ministry of Environment, the event is supported by the UN Environment Programme's United for Efficiency (U4E), the Centre of Sustainable Cooling, the University of Rwanda (UR), the University of Birmingham and a number of UK universities.
Following significant initial ODA funding investment from the UK (Defra), ACES begins operations next year - hosted at a campus in Kigali allocated by the University of Rwanda, backed by a high-level Government team and supported by experts from the University of Birmingham and UNEP U4E.
The summit will inform audiences of the latest developments at ACES Headquarters in Kigali and affiliated Living Laboratories anticipated throughout the continent to scale-up adoption of sustainable cold chain solutions. There are ongoing close discussions with Defra regarding further funding to build on early investment and activities.
ACES project co-developer Toby Peters, Professor of Cold Economy at the University of Birmingham, will moderate the event and speakers will include:
Dr Jeanne d' Arc Mujawamariya, Minister of Environment, Government of Rwanda
Omar Daair, British High Commissioner to the Republic of Rwanda
Joyce Msuya, Deputy Executive Director, UNEP
Brian Holuj, ACES project co-developer, UNEP U4E
James Quinault, Director, Department for Environment, Food & Rural Affairs (DEFRA), United Kingdom
Professor Judith Evans, London South Bank University (LSBU)
Dr Natalia Falagan, Cranfield University (CU)
Professor Tom Ogada, Director, African Centre for Technology Studies (ACTS)
Representatives from local and multinational companies
Dr Jeanne d' Arc Mujawamariya, Rwanda's Minister of Environment, commented: "Rwanda is proud to host ACES. We look forward to working with our partners to chart the course for Africans to emerge as global role models in pivoting away from significant food losses toward robust economic gains, healthy communities, and climate-friendly agribusiness opportunities."
Rwanda is one of the least urbanised countries in Africa with 73% of the workforce employed in agriculture. In sub-Saharan Africa, 54% of workers rely on the agricultural sector. A further challenge is that agriculture in Rwanda is dominated by six million small and marginal farmers, each on average farming less than 0.6 hectares of land.
High Commissioner Omar Daair noted: "Climate change is the greatest challenge facing the world today, and agriculture is vital to the livelihoods of so many Rwandans and to economic development across Africa. I'm really excited to see how this partnership of world leading experts from the UK, Rwanda and beyond will find solutions to the challenge of sustainable cooling. And I'm proud that this is being spearheaded right here in Kigali with support from the UK."
Farmers need robust and sustainable means of getting perishable produce to urban markets. This high-profile summit moves us closer to achieving this goal in Rwanda and the wider continent without using fossil fuels. ACES will develop and demonstrate ways of delivering affordable lowest carbon emissions cooling and cold-chain systems while meeting Africa's social and economic cooling needs. Without a robust and sustainable cold chain, the continent will struggle to feed its millions of citizens effectively or meet its export targets to drive growth.

ACES project co-developer Toby Peters, Professor of Cold Economy at the University of Birmingham.
ACES supports Rwanda's National Agricultural Export Development Board's (NAEB) five-year strategy to double agricultural exports by 2024-25 and significantly increase exports of aqua-culture, beef and other temperature sensitive products, and it is supportive of the African Union's Agenda 2063 and related sustainable development targets by countries throughout the continent.
At the same time, the work will not only contribute to supporting the efficient and equitable delivery of COVID-19 vaccination, but also design solutions that can contribute to long-term cold-chain and energy resilience with a lasting legacy.
In a world where climate change has a negative impact on food cycles, intensifying food production alone is no longer a viable solution to respond to the emerging food demand, mitigating food loss will be key to food security.