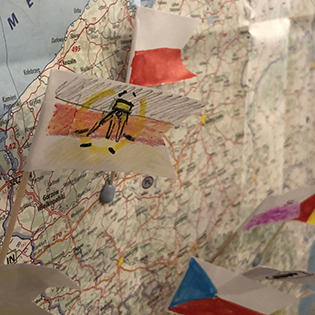 Professor Sara Jones of the Department of Modern Languages, alongside Dr Charlotte Galpin of the Department of Political Science and International Studies and Dr Jenny Wüstenberg of Nottingham Trent University have received a grant of £935k from the Arts and Humanities Research Council for a three year project "Post-Socialist Britain: Memory, Representation and Political Identity amongst German and Polish Immigrants in the UK."
The project will include the appointment of two postdoctoral researchers, Dr Maren Rohe and Dr Paweł Duber.
Starting in February 2021, the project will explore what happens to the connection between collective memory and political identity in the process of migration, and examine the growth in support for anti-immigrant and Eurosceptic parties across Europe. Focussing on countries with an experience of state socialist rule, the project explores how the popular notion that political extremism in post-socialist countries is underpinned by collective memory of authoritarianism is based on the assumption that those remembering authoritarianism do so in their country of origin. Post-Socialist Britain breaks out of this national mould to explore if and how memory is linked to political identity when the individual moves to a new national context.
Professor Sara Jones said: "It's often assumed that memory informs political behaviour and identity, but we don't know exactly if and how that connection works. This project allows us to explore this question from a unique perspective."
"Contemporary Britain is made up of the people who live here. Sometimes we forget that this includes hundreds of thousands of individuals who have migrated to the UK from post-socialist contexts. This project aims to support community cohesion and inclusion by better representing their memories and experiences".
By partnering with Birmingham-based Central and Eastern European arts organisation Centrala, as well as the Polish Expats Association, Polish Professionals in London, European's Welfare Association, British German Association, and Creative Black Country, the project team will work closely with Polish and German arts, professional and community associations, policymakers, immigrant communities, and schools in order to ensure that the findings are disseminated to and usable by these beneficiary groups.
The research findings of Post-Socialist Britain will lead to a better understanding of how immigrant groups negotiate different aspects of their identities and the factors that contribute to the development of political behaviour. The project will therefore also be of significance for multiple stakeholders who work towards promoting community cohesion and against xenophobia and extremism.