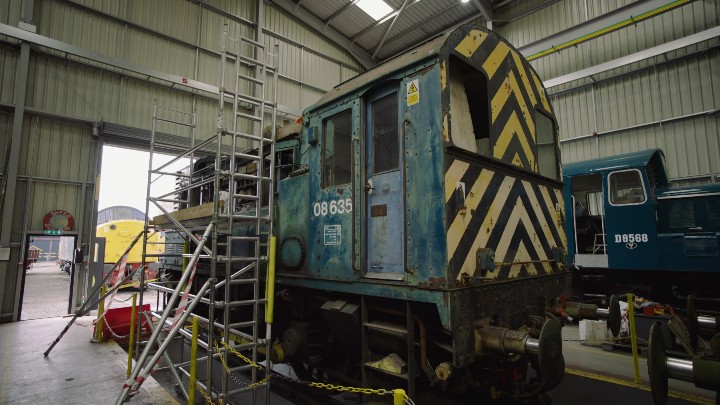 The Severn Valley Railway has teamed up with the University of Birmingham and local start-up company, Vanguard Sustainable Transport Solutions, to work on a ground-breaking scheme. The Harrier HydroShunter project will see the UK's first-ever conversion of a diesel locomotive to run on hydrogen power.
Work is already underway at the heritage railway's diesel depot at Kidderminster, where a team of young volunteers are stripping down the donor vehicle. They're removing the existing diesel engine and generators and overhauling other components, as they prepare Class 08 shunter No 08635 to receive its new power system.
Vanguard Sustainable Transport Solutions is designing the hydrogen-battery hybrid traction system. This will be made up of hydrogen cylinders, a hydrogen fuel cell stack and a hybrid battery.
The cylinders will store hydrogen as a pressurised gas, which will be fed to the fuel cell stack via a regulator. In the fuel cell stack, hydrogen will be combined with oxygen from the air, to produce electricity to power the locomotive. Meanwhile, the battery will store energy to provide additional power for when it's needed.
The equipment will be mounted on a sub-frame, fitted to the existing engine mountings. It will supply the existing traction motors of the Class 08, which will keep its existing controls.
Mike Ball, the Severn Valley Railway's vice chairman, has been closely involved with the project from its inception:
"We were delighted when the University of Birmingham asked us to get involved in this project. As a heritage railway, we're actively looking for ways to reduce our carbon footprint, and having a hydrogen-powered shunter will play a key part in that plan.
"The current preparation stage for the Harrier shunter is providing an excellent opportunity for some of our younger volunteers to put their skills to good use. The group working on the 08 are all still in their teens, and their ability to plan and implement this task has been nothing short of amazing. They're the volunteers of the future, working on a locomotive for the future."
Alexander Burrows, director at the University of Birmingham's Centre for Railway Research and Education (BCRRE), added:
"Our team at the University of Birmingham are pioneering the designs and opportunities to bring hydrogen technology to the UK railway. Following the success of our HydroFLEX project with Porterbrook that delivered the UK's first mainline approved hydrogen train, we are thrilled to be working with the Severn Valley Railway and Vanguard to roll out the Harrier HydroShunter.
"This is another fantastic project where BCRRE has partnered with a leading heritage railway and an innovative local start-up business to pioneer our research in a real world industrial application."
Charles Calvert, chief engineer at Vanguard Sustainable Transport Systems, said:
"Vanguard has developed the HydroShunter to enable cost-effective retrofitting of diesel locomotives with clean, modern hydrogen-battery traction systems. The Harrier HydroShunter will provide the Severn Valley Railway with an emissions-free shunting locomotive for their operations.
"Using hydrogen produced from renewable electricity, the Harrier will be a clean and quiet loco that just happens to also be an innovation superstar at work on one of the UK's leading heritage railways."
Vanguard's engineers are developing the power pack design at the University of Birmingham and will install this into the Class 08 in the coming months. Testing of the hydrogen-power shunter locomotive will take place at the Severn Valley Railway later this year. The development of such technology is predicted to have a global significance, and the teams are working towards translating this to heavy-haul applications.
The Severn Valley Railway has produced a short film, featuring some of the young volunteers preparing the Class 08 shunter, along with the railway's general manager and Vanguard's project engineer. This can be viewed from 5.30pm on Friday 23rd April on the SVR's official YouTube channel.
For media enquiries for Severn Valley Railway please contact Lesley Carr, head of marketing and communications, tel: 07775 440948.
For media enquiries for the University of Birmingham please contact Beck Lockwood, Press Office, University of Birmingham, tel: +44 (0)781 3343348.
About the Severn Valley Railway
Having celebrated its 50th Anniversary in 2015, the Severn Valley Railway welcomes more than 250,000 visitors per year, and is among the UK's most popular and much-loved historical attractions. Run largely by a dedicated body of more than 1,600 volunteers, the full-size, standard-gauge railway line runs regular steam- and diesel-hauled passenger trains along a scenic 16-mile route between Kidderminster in Worcestershire and Bridgnorth in Shropshire for visitors and enthusiasts alike to enjoy. There are six attractive, beautifully-maintained stations along the route as well as The Engine House Visitor Centre at Highley. Here, visitors can enjoy interactive exhibits including up to eight steam locomotives, a magnificent royal carriage and a 'how the SVR works' exhibition and café.
There's a wealth of background on the railway, and the chance to go behind the scenes at the SVR's YouTube channel.
About the University of Birmingham
The University of Birmingham is ranked amongst the world's top 100 institutions. Its work brings people from across the world to Birmingham, including researchers, teachers and more than 6,500 international students from over 150 countries.
BCRRE, is Europe's largest academic-based group delivering railway science and education. With over 145 academics, researchers and professional support staff, BCRRE provides world-class research and thought leadership within railways, and offers an expanding portfolio of high-quality education programmes, including Rail and Rail Systems Level 6 and 7 degree apprenticeships. In 2018 BCRRE became lead partner in the £92m UK Rail Research and Innovation Network (UKRRIN) and in 2019 it absorbed the activities of the Rail Alliance into its offering, increasing its breadth of support for innovation and growth in the rail industry. Contact BCRRE.
Vanguard Sustainable Transport Solutions was established in early 2020 in Birmingham to drive the delivery of clean mobility solutions for transport through the development of hydrogen and battery technologies and associated supporting infrastructure for application. The Vanguard team are leaders in the design and development of clean, innovative railway traction systems and supporting infrastructure to power clean mobility.