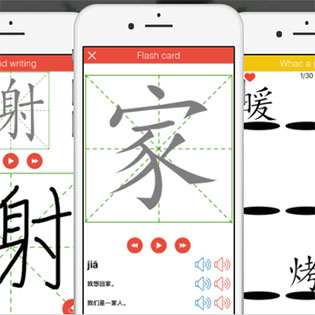 HANZI – a mobile app for learning Chinese characters
Xiaolong Tang, University of Birmingham.
0000-0001-6202-3775
Due to the cutting-edge characteristics of the research on mobile app-assisted learning and a large number of mobile apps in the market, language teachers have encountered difficulties in identifying suitable apps to incorporate into their teaching. There has long been a need for a mobile app, which would allow the use of technology to facilitate students' learning of the Chinese language, and allow for further academic research in this field.
Chinese has no alphabet, and its script - Chinese characters - comprises different strokes; moreover, the pronunciation and shape of characters are also separate. Such features pose great difficulties for students learning Chinese. After many years' hard work, the HANZI app (meaning "Chinese characters") was released to the public.
A good Chinese language learning mobile app should reflect basic language learning theories, enhance students' learning experience, and also have clear pedagogical implications. Some of the considerations for the app were: the features of Chinese characters, learners' acquisition, major approaches in second language teaching, mobile learning principles, and the relevant pedagogical implementation. These considerations provided the theoretical guidance for the app design, and most importantly, helped to implement into practice existing theories within the app.
With regard to the translation of sample sentences in the Flashcards facility of HANZI, the underpinning theory is the Grammar-Translation method. The app displays each example sentence with its corresponding literal translation, this being a word-for-word translation (translating independently of the target sentence as a whole) and not a free translation (which aims to convey all of the meaning, but is not constrained by the form of the original at all). Under the Grammar-Translation method, providing literal translation fits well with recent research on translanguaging, which argues that researchers should take advantage of learners' existing knowledge about their mother tongue to maximise limited class hours and to reduce workload. According to the results of a Users' Survey Questionnaire, 87.7% of respondents think that the literal translation of these examples is useful. Most teachers at the interview also confirmed that the sample sentences given on Flashcards with literal translations are appropriate and that this setting is helpful for students to learn characters. A teacher also stated that she would explore that function in class.
In terms of mobile learning, many scholars suggest that design in relation to learning technology developments should consider how learning materials can be authentic. HANZI contains a section in which students are trained to spot the characters in different images. Those images, taken in major cities of China, include traffic signs, shop fronts, billboards, and many more. The results of a Users' Questionnaire Survey indicate that 87.7% of the respondents think that identifying Chinese characters from an authentic picture is a fun and effective way to learn. A teacher tried HANZI in class and commented "…you've got the pictures from the real situation…my students [said]: [they]'ve learnt this word. [They] found it in some restaurants or on the street. [Students are] encouraged". A book chapter on using such authentic learning materials through the HANZI app is also published.
HANZI is not yet a perfect learning tool and has its own limitations, including the lack of interactions with classroom facilities, and a mechanism for providing the user with instant feedback.
Available in the Apple App Store (Compatibility: Requires iOS 10.0 or later. Compatible with iPhone, iPad, and iPod touch.)