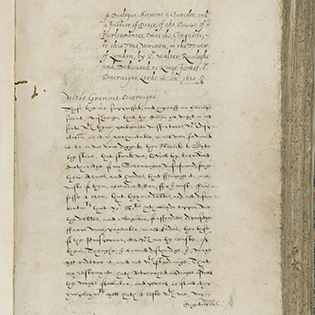 Manuscript Pamphleteering in Early Stuart England
Noah Millstone, University of Birmingham.
0000-0003-3549-8614
Sebastiaan Verweij, University of Bristol.
0000-0002-0799-1623
Richard Bell, Keble College, Oxford
0000-0003-0004-3812
Mike Jones, University of Bristol.
0000-0002-7499-5907
Before the outbreak of Civil War in 1642, England developed a large, influential and often radical pamphlet literature. Speeches, learned briefs, and scaffold apologies joined character assassinations, secret histories and conspiracy theories in a jumbled literary underground. Pamphlets were produced commercially and informally and circulated across the kingdom; they fascinated readers and influenced events. Large numbers of copies survive - probably in the tens of thousands - suggesting a significant readership. Manuscript Pamphleteering in Early Stuart England is a freely-available database that brings together bibliographical data, texts (transcriptions) and manuscript images to help students and scholars access the rich world of early Stuart handwritten political discourse.
In our usage, a manuscript pamphlet is a handwritten text, usually from a particular set of genres – speeches, letters, petitions, briefs, treatises, dialogues – that circulated through the particular matrix of scribal practices that prevailed in early Stuart England. Thomas Alured's Letter to the Marquess of Buckingham (1620), for example, was originally composed as an intervention in the marriage-treaty negotiations that Britain was conducting with Habsburg Spain in 1620, and briefly landed the author in prison; it was also copied by hand and sold commercially by professional scribes and manuscript dealers. Handwritten copies circulated throughout the kingdom, and contemporary transcripts survive in the notebooks of clergymen and gentlemen from Norfolk to Shropshire and from Kent to Cornwall. The goal of this resource is to give students and scholars better access to the sorts of texts that belonged to the world of Alured's Letter.
For the most part, though not exclusively, manuscript pamphlets were concerned with recent events or the near past. The paradigmatic manuscript pamphlet is perhaps the transcript of a speech delivered by a significant legal or political figure (such as the philosopher, lawyer and statesman Francis Bacon) on a particular occasion (perhaps at the arraignment of a disgraced courtier, or the elevation of a judge). There are also position papers on particular government policies, like Robert Cotton's remarks On the Alteration of the Coin (1626); apologies for, or attacks on, major public figures, like William Tourneur's Character of the Earl of Salisbury(1612) or William Fleetwood's Unhappy View of the Whole Behaviour of the Duke of Buckingham at the French Island (1627); important criminal trials, such as the trials of those involved in the Overbury Poisoning (1615-15) or of the Puritan pamphleteers Henry Burton, John Bastwick and William Prynne (1637); and elaborate considerations on recent events, like the Five Years of King James or Tom Tell-Troth. English foreign policy and news from abroad also featured extensively, as did works concerned with religious controversies at home and abroad.
The occasional, or historical, nature of these works is quite distinctive; readers and copyists were often very interested in the circumstances under which the work was composed, who composed it, and why. When these details are missing from a particular work they were often supplied conjecturally by readers: anonymous works were regularly attributed to particular authors; undated or misdated texts were often assigned to particular times, all by contemporary readers. Different copies of the same work vary, sometimes considerably; many contemporaries were alert to this aspect of manuscript circulation, and compared or collated variant copies when they could.