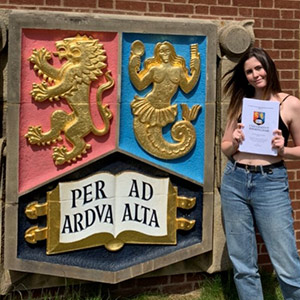 In her latest blog post, BA Anthropology and Politics student Chloe tells us about what she learnt from writing her dissertation at the University of Birmingham and gives some tips for future students.
Anthropology is the study of people and cultures. Using ethnography, anthropology offers a lens in which local voices can be heard in national and international issues. For my dissertation, I wanted to understand sustainability, within the context of Indonesian palm oil, from a local perspective.
I wanted to see how different my own understanding of sustainability, from a European perspective, differed from the people who worked and live on palm oil plantations. By listening to Indonesian voices, I found the discrepancies in sustainability discourse and how they were utilised for the benefit of the predominant narrative. That is, European sustainability discourse often demonises the practices of the global south these natural resources come from in order to benefit themselves politically and economically.
It may seem very far away now, but your first and second year at university will teach you the skills that are needed to produce research of your own. From research methods, ethics, to planning and writing your dissertations, the skills you learn indirectly from other modules throughout university give you the skills necessary for producing your own contribution to academia.
Although it may seem daunting and very far away at first, your dissertation represents your learning at university and contribution to your subject. Whilst conducting research, you can find yourself in places with people you never imagine encountering such as the British Museum Archives or interviewing CEOs of companies.
Your dissertation should represent you and should be about something you enjoy. It's still very far away when you start university but a key piece of advice I would give is to choose topics and modules YOU find interesting - not because you think they would look particularly impressive to others but be boring for you.