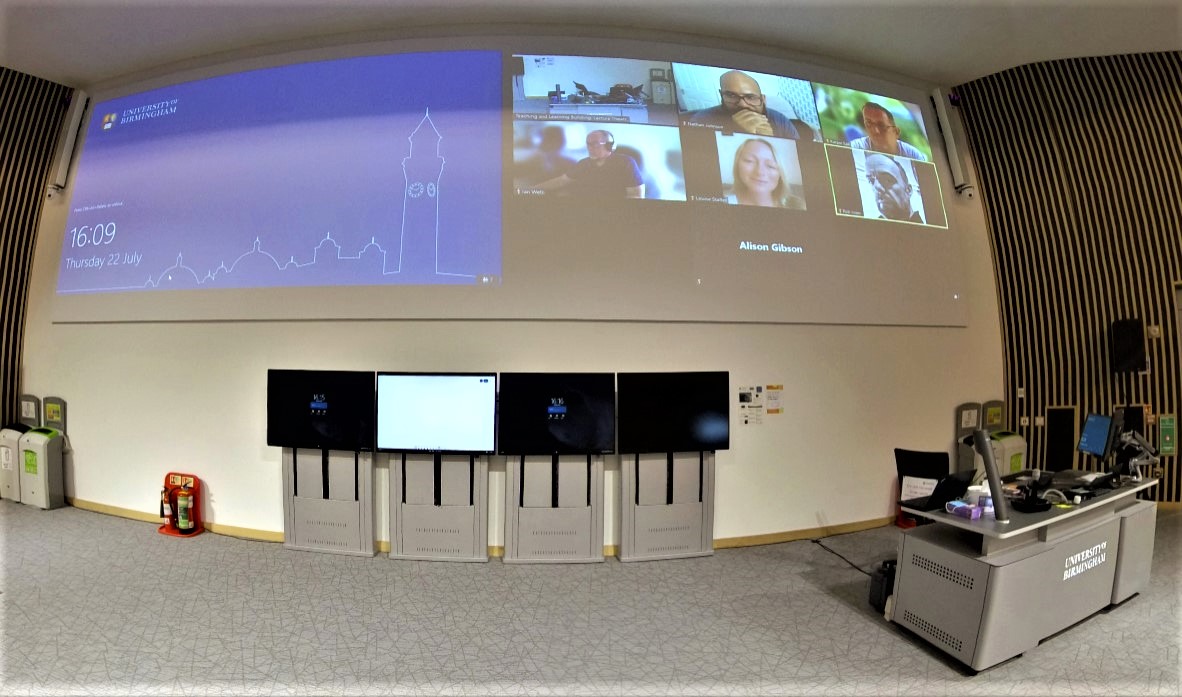 Hybrid Teaching Rooms
The Project Team has installed hybrid teaching equipment in 60 rooms. This includes 20 large teaching rooms with capacity for 100 to 400 people, and a further 40 smaller rooms with capacity for 10 to 24. A list of rooms is available via the Hybrid Teaching Room hub detailed below.
Each room was selected following discussions with the Senior Education Team, HEFi, Timetabling and LRAT. Factors considered included identifying programmes with high numbers of overseas students, cohort size, locations around campus, provision of TAMU support, and the suitability of room infrastructure for conversion.
A Hybrid Teaching Room Hub provides you with a central source of information, detailing which rooms we are working on, when we expect each to be ready, how to use the technology once it is available. You will find a range of resources, developed collaboratively by HEFi and academic colleagues, for staff and students who have sessions timetabled in the teaching rooms equipped for hybrid delivery. We'll also share updates via the Hub as these rooms become available.
Academics are invited to book a place on one of our familiarisation sessions, which are listed on the Hybrid Teaching Room Hub. These sessions offer you the opportunity to try out the equipment and become familiar with how it works. We do recommend that, if you find that you will be teaching in one of these rooms once timetables are released, you attend these sessions before a live teaching session.
Visit the Hybrid Teaching Room Hub at: https://bham.sharepoint.com/sites/HybridTeaching
We will evaluate this initiative throughout the academic year, and we look forward to receiving your feedback and that of your students.