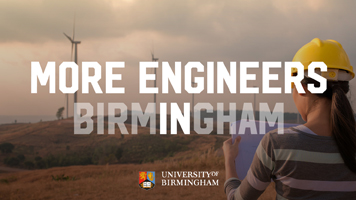 Every year, 69,000 jobs for engineers and skilled technicians in the UK go unfilled.
Yet the UK has a wealth of untapped potential; people from low participation backgrounds make up only 11% of STEM (Science, Technology, Engineering and Maths) undergraduates in the UK. As a result, the UK does not have enough engineers, and the STEM (Science, Technology, Engineering and Maths) sector does not have enough insights from women or people from low income backgrounds.
The University of Birmingham's College of Engineering and Physical Science (EPS) is seeking to address this with the Engineering and Science Foundation Year, 'EPS Futures', one of the first of its kind in the country.
Through the generous donations of donors such as Martin-Baker Aircraft, EPS Futures will fully-fund associated costs such as living costs and tuition fees, providing a life-changing opportunity for students. Along with mentoring from current students, alumni, and corporate partners, and by gaining professional experience, EPS Futures will help unearth future engineers and scientists who otherwise would not have had the chance to fulfil their potential.
The course teaches a mixed science and maths curriculum, equivalent to grade A*-level standard, giving students who either did not take the required subjects post-16, or did not achieve the necessary grades to be considered directly for first year, the opportunity to study at the University of Birmingham.
Preceding the normal first year of a degree course, the EPS Futures Foundation Year supports their transition to study STEM at Birmingham over 12 months, enabling them to acquire the skills and knowledge to succeed in their studies. As well as subject specific knowledge, students are taught transferrable skills such communication, organisation, how to think for themselves, problem solving and project management, and other workplace-focused skills.
The EPS Futures programme leads directly on to our highly regarded Engineering and Physical Sciences degrees, allowing progression to a range of subsequent three or four year degree courses.
Martin-Baker Aircraft, the world leader in the design and manufacture of ejection and crashworthy seats for over 70 years, has generously donated £100,000 towards the EPS Futures programme over the next five years. As well as supporting the programme financially, Martin-Baker will also support students through mentorship and providing work placement opportunities.
Inspired by its Chief Executive and University of Birmingham alumnus, Robert Martin (MSc Engineering, 1994), Martin-Baker is now a key corporate partner to the programme and is keen to play an important role in supporting underrepresented young people pursue a career in STEM.
Matt Dale, Group Vice President Human Resources, Martin-Baker Aircraft Company says: 'We are delighted to be partnering with the University of Birmingham on the EPS Futures Foundation Year Programme. Creating an environment to encourage more people to consider STEM subjects during and after school age is the only way to effectively close the skills gap most employers are experiencing.
'The programme helps to remove barriers and create opportunities for individuals and employers. It is not only a benefit to the students, as we know our existing engineers will be able to develop through mentoring and working with students on real world projects.
'Schools, universities and employers all need to play our part in creating a rich and diverse workforce for the future, we know that the EPS Futures Foundation Year can help deliver this aim.'
Find out more about the EPS Futures Foundation Year. If you would be interested in partnering or supporting the programme please contact Jack Skinner.