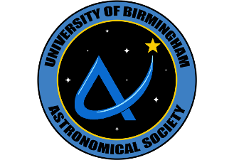 AstroSoc is the society for anything and everything to do with the astronomy, the night sky and observing. It has been so great being back in person this year!
We started the year by celebrating World Space Week 2021, for a second time at the University of Birmingham. This was an exciting collaboration with SATNAV, PPS and WISE as we organized a number of events. With the theme of WSW 2021 being Women in Space, we welcomed Dr Leah-Nani Alconcel from the School of Metallurgy and Materials as she shared with us her experience working with NASA on the Cassini mission and upcoming JUICE mission. As part of the Week we also hosted our first-ever bi-modal with attendees both online and in person. Here we were joined by Dr Emma Taylor, Christine Vincent, and Niamh O'Neill-Berest for Blasting Off: A Panel Discussion with Women in Space and Tech. Each shared their career advice and tips as women in different stages of their careers in the space industry. Do check out the talk on our YouTube channel.
One of our best moments from WSW 2021 has to be seeing Old Joe's clock face turn blue 4-10 October to recognise the theme of Women in Space! Additionally, SATNAV and AstroSoc published articles highlighting women in the field and the challenges they've faced; these can be found on SATNAV's website.
We were thrilled to continue our annual Rockets Night event. It was amazing seeing everyone join us for the evening as we made rockets from funky paper and decorations, and launch them across the room from a pressurized air system! With rockets of all shapes and sizes with all kinds of exciting designs, this was a fun-filled evening as we welcomed freshers from across the University.
In November, we hosted the first in-person quiz night as we stretched our minds with astro-themed questions – not all were scienc-y! – in multiple rounds! Did you know that five Harry Potter characters are named after constellations? Sirius and Regulus Black, Draco, Remus Lupin, and Bellatrix Lestrange! We also held a Telescope Workshop for all members, led by our Equipment Officer Oscar who shared his top tips on observing the night sky.
We've also had the chance to do some observing this semester! With our finder telescope and Dobsonian we observed Jupiter, its moons and Saturn and it was lovely seeing you all join us. We hope to have more observing sessions next semester.
Additionally, we did our first community outreach event in over a year. We visited students at Stockland Green School, Birmingham last month and conducted a telescope workshop and Q&A with Year 10 students. We've not been able to do these in so long, so it was great to be back in a school!
We wrapped up the semester with our EGM and are delighted to let you know that we are a complete committee now, even more ready than ever before, to bring exciting events for you in semester 2!
Keep your eyes peeled on our Facebook page for updates. Don't forget to buy membership here on the Guild website; you'll join our mailing list and get email updates on events.
With semester 1 gone by in a whiz, we wish you a lovely Christmas break and look forward to seeing you in the next year.
Cheers,
Anwesha (Chair), on behalf of the AstroSoc committee
If you would like to know more about AstroSoc visit their society website.
There are 41 student groups in the College of Engineering and Physical Sciences. To learn more about their projects and activities head to the EPS Societies homepage.