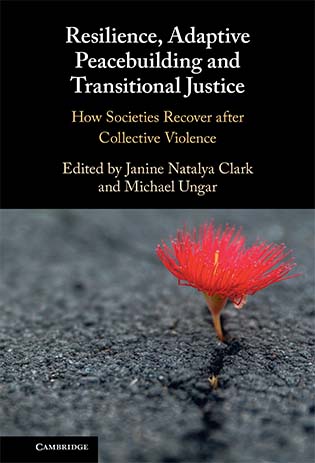 Cambridge University Press has just published a new open access volume, co-edited by Professor Janine Natalya Clark from Birmingham Law School and Professor Michael Ungar from the Resilience Research Centre at Dalhousie University in Canada.
This is a highly original inter-disciplinary book that brings together the collective expertise of a diverse range of scholars and practitioners who contribute their own unique insights to the three core themes of resilience, adaptive peacebuilding and transitional justice.
Processes of post-war reconstruction, peacebuilding and reconciliation are partly about fostering stability and adaptive capacity across different social systems. Nevertheless, these processes have seldom been expressly discussed within a resilience framework. Similarly, although the goals of transitional justice – among them (re)establishing the rule of law, delivering justice and aiding reconciliation – implicitly encompass a resilience element, transitional justice has not been explicitly theorized as a process for building resilience in communities and societies that have suffered large-scale violence and human rights violations. The chapters in this unique volume theoretically and empirically explore the concept of resilience in diverse societies (including Bosnia-Herzegovina, Rwanda, Cambodia and Guatemala) that have experienced mass violence and human rights abuses. They analyse the extent to which transitional justice processes have – and can – contribute to resilience and how, in so doing, they can foster adaptive peacebuilding.
Janine Natalya Clark is Professor of Gender, Transitional Justice and International Criminal Law in Birmingham Law School. The idea for the book took shape in the context of her ongoing research project, funded by the European Research Council, about resilience and victims-/survivors of conflict-related sexual violence. She is currently working on a monograph related to the project and has recently published a number of interdisciplinary articles in journals including International Affairs, the International Journal of Transitional Justice, Theoretical Criminology, International Studies Review and the British Journal of Sociology.