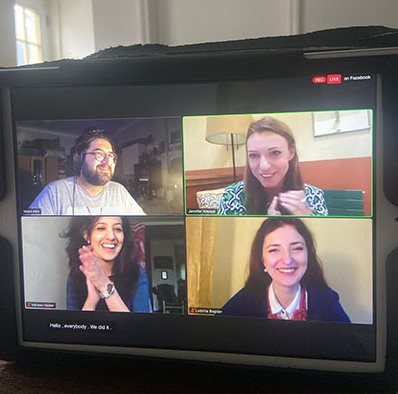 Ahead of International Migrants Day on 18 December, the University of Birmingham's Institute for Research into Superdiversity (IRiS) and the University of Pennsylvania Migration Initiative are proud to announce the launch of an exciting new transnational collaboration.
The Penn Birmingham Transatlantic Migration Fellowship Program brings together a network of over 25 PhD students and early career researchers with visiting speakers from the USA and the UK with a view to foster collaboration between American and British scholarship, develop leadership, and support successful transitions from PhD research to policy impact and academic employment.
The program is co-led by Birmingham Fellow Dr Jennifer Allsopp, who joined the University of Birmingham in June this year from the Immigration Initiative at Harvard (IIH), and Professor Roberto G. Gonzales, former Director of the IIH and newly appointed Richard Perry University Professor of Sociology and Education at the University of Pennsylvania.
Professor Richard Black, Director of the College of Social Sciences at the University of Birmingham said that he was delighted to co-host the Fellowship Program at Birmingham:
'The new Penn-Birmingham Transatlantic Fellowship Program offers our doctoral students a unique opportunity to be part of a global network of migration scholars. Philadelphia and Birmingham are both diverse, outward-looking cities with long histories of migration. This Fellowship program will bolster world-leading social science research across the two institutions. It is just one example of a range of new projects that demonstrate our university's international outlook.'
The program builds on a longstanding tradition of partnership between IRiS scholars and colleagues from Ivy league institutions which includes, among its outputs, the pivotal book Undocumented Migration, which was co-authored by IRiS Director Professor Nando Sigona and IRiS researcher Dr Anna Papoutsi along with Professor Roberto G. Gonzales and Martha C. Franco in 2019. Channeling the success of past collaborations to meet the new demands for online solidarity that had become apparent in the context of COVID-19, Professor Gonzales reflected that the fellowship was a natural evolution:
'Last year when the pandemic forced universities to transition teaching and other activities from our campuses to online spaces, Dr Allsopp and I moved what had been a traditional in-person seminar involving Harvard graduate students to one held virtually. Since we didn't need to be in the same physical location, the virtual format opened new possibilities to engage students across several U.S. campuses. Initially, we weren't certain how this would go. But it turned out to be a smashing success! Students responded well to the interdisciplinary, intellectual community, and they provided much needed support for each other, both academically and socially. This year, with Dr Allsopp now at Birmingham and my transition to Penn, the expansion of the Migration Fellows Program to the UK has felt very natural. My collaboration with Professor Sigona, dates back more than 10 years now. We all work quite well together, and our students are adept at forging connections and providing support.'
Ramon Garibaldo Valdez, who joins the fellowship program from Yale University's Political Science Department, commented on the merit of the program's international ethos:
'It only makes sense for the study of transnational migration to cross borders, be it those of academic discipline or countries. This new initiative creates fertile ground for academic dialogues that also remain deeply rooted in the imperative for migrant justice.'
Natasha Nicholls, a PhD student at IRiS, explained that her interest in the program was born from a desire to connect with other scholars across the world who were working on migration as well as to share experiences and resources with fellow PhD students:
'The fellowship program has already become a valuable part of my PhD experience. I have gained insight into the working practices of other fellows internationally, and the peer review process has been central in terms of developing the quality of my own writing as I enter into the third year of my PhD.'
The program counts among its fellows a diverse range of PhD students and early career scholars who not only study, but whose lives have been shaped by migration. Many of the inaugural fellows are from a first generation and/or migrant and refugee background.
Irina Chukhray, a PhD student in Sociology at University of California, Davis shared how the Fellows program has been a huge help in her academic trajectory:
'I am the first in my family to graduate college and now to be a PhD student. I am also an immigrant. I have had to navigate many unknowns and this program has been a tremendous support network! The Fellowship program has provided me with invaluable feedback on my work from Fellows of diverse academic backgrounds, which has introduced me to incredibly relevant literatures and debates. I have also benefited greatly from the professional development of the program! I truly feel that the Fellows are my academic family.'
Ten of the Penn-Birmingham transatlantic fellows are final year PhD students at the University of Birmingham and University of Pennsylvania. 15 others join us from an existing cohort that came together during the pandemic under the leadership of the IIH. These fellows, many of whom have now been awarded PhD's and successfully transitioned to take up tenure track jobs, bring to the group unrivaled expertise from institutions including but not limited to Harvard University, Princeton University, the University of California, at Berkeley University, Columbia University, Yale University, and the University of California at Davis. Fellow Dr. Maheen Haider, formerly a PhD student at Boston College and an IIH fellow at Harvard University, and now Assistant Professor at the University of Massachusetts Lowell, explained that the interdisciplinary support of the fellowship program had been fundamental to her professional development, while the feedback on her research from both European and American colleagues helped enhanced her scholarship on issues of citizenship and belonging.
Key to the expansion of the fellowship program was a hugely successful international conference, Bold New Voices in Migration Research, which Dr. Allsopp and Professor Gonzales organized in March 2021 - when they were both still based at Harvard - with the help of Dr. Haider and another fellow, Dr. Ludmila Bogdan. The event brought together over 500 early career researchers in migration studies from all over the world. Dr. Allsopp explained,
'It was a silver lining of the pandemic that, in organizing the conference, we were able to bring together voices from five continents and over 25 countries to unite scholarship that is too often divided along regional lines. We were bowled over by the quality and volume of submissions and by the global resonance. Academia can be a tricky place for those early on in their career, but we were struck by the diversity of the audience and by the comradely spirit between those presenting. When an Afghan colleague zoomed in from Kabul, the chat lit up with solidarity. Meanwhile, several attendees have written to report that they've built new collaborations off the back of the event.'
Among the 30 plus presenters at the conference were four IRiS students who are now among the program's inaugural Birmingham-based fellows. IRiS doctoral candidate Bircan Çıytak commented:
'Participating at the 'Bold New Voices in Migration Research' conference in March 2021 was a great opportunity to present my research results on identity and sense of belonging of third-generation migrants without migration experience in Germany. The conference comprised unique research by international early career researchers and helped me to widen my network. In October 2021, I joined the Penn-Birmingham International Migration Fellows Program. Catching up twice a month allows staying in touch with an international network, sharing the latest news and current research projects, and offers a great chance to ask for advice and support if needed.'