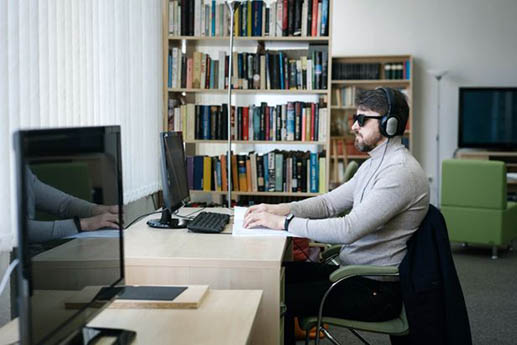 In England, there are over 30,000 children andyoung people with vision impairment; a lowincidence group who often have limitedrepresentation within society.
Inclusion of young people with vision impairment isimpacted by a number of enablers andbarriers within education, employment andsociety generally.
Young people with vision impairment face anumber of pinch points in their journeys as theytransition into adulthood and employment,including complex transitions into highereducation and lack of support accessing thelabour market.
Key recommendations for policymakers toconsider to ensure that young people with visionimpairment have an equitable educationalexperience and are supported to reach theirpotential in life include:

1) Address gaps in provision for students withvision impairment in further education, including exploring the possibility of extending the Disabled Students Allowance (DSA) scheme to cover Further Education settings.
2) Consider the needs of children and young people with special educational needs and disability (SEND) in ongoing policy developments such as the 'Skills for Jobs' White Paper and the National Strategy for Disabled People.
3) For the DSA and Access to Work processes to be simplified so that young people with vision impairment can more easily and effectively access the vital support that they require to support their studies and access employment.
4) Improve awareness and uptake of the Access to Work scheme. This should include investigating the possibility of introducing an Adjustment Passport for young people with disabilities, which would travel with the young person as they transition.
The Longitudinal Transition Study is a unique piece of research that has followed the experiences of 82 young people with vision impairment for 11 years as they completed their compulsory education and followed various pathways. This included further education, higher education and employment. This policy briefing focuses on research findings and final outcomes of young people with vision impairment in England and Wales.
Dr Rachel Hewett