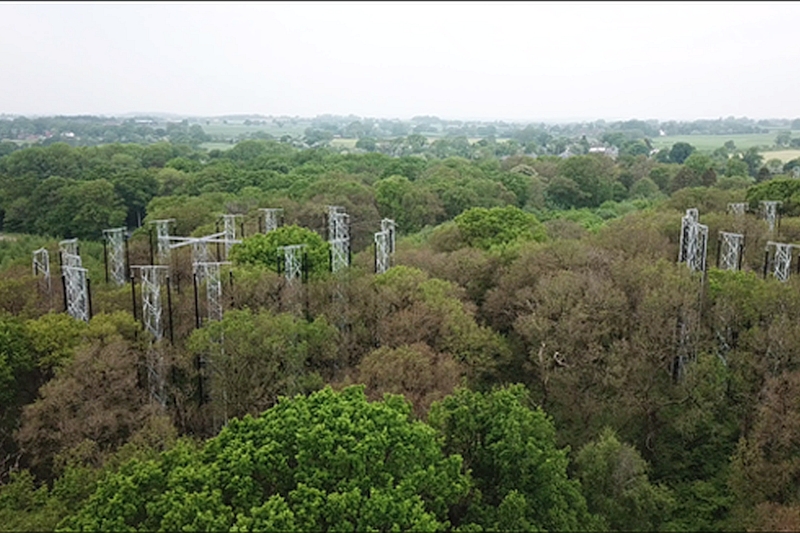 Experts will explore whether trees can remember past stress conditions, such as drought or disease, and transfer these memories to their descendants as part of a major new study.
It is hoped that the research will improve our understanding of the value of trees to people and the planet, and support the expansion of treescapes across the UK.
The project will demonstrate experimentally whether and how trees remember past stress conditions and transfer these memories to descendants through epigenetics-based DNA modifications – changes that alter the activity of some genes, without changing the DNA sequence.
The project is one of six to receive a share of £10.5 million from UK Research and Innovation in its Future of UK Treescapes Programme to develop new tools and approaches which will help trees and woodlands adapt to climate change and enable the UK to reach net zero greenhouse gas emissions.
Expanding the UK's trees, woodlands and forests will play an important role in realising the Government's ambition to achieve net-zero greenhouse gas emissions by 2050. However, our treescapes need to become more resilient to pressures such as changing climate, disease, and competing demands for land in order to reverse decades of decline in biodiversity and environmental quality. The study will begin to fill the gaps in our current limited understanding of how past experiences impact adaption to different environmental stresses.
The MEMBRA project (Understanding Memory of UK Treescapes for Better Resilience and Adaptation) is led by Dr Estrella Luna-Diez from the School of Biosciences at the University of Birmingham and the Birmingham Institute for Forest Research. The project includes researchers from across Biology, Ecology, Classics, Geography and Earth Sciences and it is a partnership between the University of Birmingham and the Universities of Exeter, Leeds, Leicester and Bangor, as well as the Walking Forest arts group.
"MEMBRA will provide tools to identify which species and populations will offer better resilience and adaptation and can therefore be used most effectively in conservation and planting strategies," explained Dr Luna-Diez.
Co-investigator Dr Adriane Esquivel Muelbert, from the University of Birmingham, who specialises in global forest ecology, said: 'We will look into the past to understand the level of stress UK woodlands have been through and are experiencing now by accessing information from forests monitored across the UK for decades. The ecology and functioning of these woodlands will be integrated to molecular data allowing us to understand the capacity of UK forests to adapt to stress.'
Dr Katharine Earnshaw, from the University of Exeter, will lead work to discover how an appreciation of tree-memory, and also the language of memory, can influence human decision-making capabilities and our moral relationship with treescapes.
Dr Earnshaw said: "We are interested in the role of memory for the moral standing of trees across ancient and modern thought, and how MEMBRA's research has important repercussions for linguistic justice, stories, and heritage. We hope that MEMBRA will provide a model for how arts, humanities, and the sciences can work collaboratively on such crucial environmental issues."
Researchers will partner with Forestry England, The National Forest Company, Small Woods and Coed Lleol (Small Woods Wales) as part of the project. Once the project begins, the team is keen to develop new partnerships with other interested organisations. "The results of MEMBRA can feed into policy development and the flourishing of the first memory-inspired forest – the MEMBRA Treescape," added Dr Luna-Diez.
This November, the UK Government will host the COP26 climate negotiations in Glasgow where countries will be expected to set out their plans for reaching net zero by 2050. The Future of UK Treescapes programme will contribute evidence to help policymakers and land managers expand our treescapes and reach this target.
The programme overall has funding for three years and involves 13 universities and research institutes, and over 40 non-academic partners and supporters including:
Natural Environmental Research Council (NERC)
Arts and Humanities Research Council (AHRC)
Economic and Social Research Council (ESRC)
the Department for Food, Environment and Rural Affairs (Defra)
Welsh Government
Scottish Government
Forestry Commission
Professor Sir Duncan Wingham, Executive Chair of NERC, part of UK Research and Innovation, said: "Our trees and forests are a precious resource and part of the solution to tackling the climate and ecological emergencies we face and helping the UK reach net zero in 2050.
"This research will increase our understanding of the huge societal, economic, cultural and environmental benefits associated with treescapes. This includes the importance of trees in urban spaces, why we connect with forests, and how we encourage landowners and farmers to plant more trees.
"This knowledge will help us identify where and how we can expand our woodlands and ensure their resilience to pressures and stresses over decades and centuries."
For media enquiries please email the Press Office, University of Birmingham or call the out of hours Press Office Mobile on +44 (0)7789 921 165:

The University of Birmingham is ranked amongst the world's top 100 institutions. Its work brings people from across the world to Birmingham, including researchers, teachers and more than 6,500 international students from over 150 countries.
The Birmingham Institute of Forest Research is a cross-disciplinary research centre which aims to provide fundamental science, social science and cultural research of direct relevance to forested landscapes anywhere in the world.