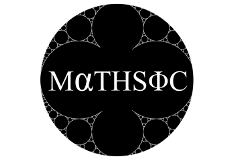 Following a difficult year, MathSoc's membership has been the highest it has ever been with over 260 members! We held many events which our members really enjoyed and helped both year 1 and 2 students settle into the social life at university.
During Welcome Week, we organised the MathSoc Family Scheme and held our usual suite of events to help new mathematics students to adjust to university life. The Family Scheme sees existing buddy-up and act as 'parents' to new students joining the School. We began with our MathSoc introduction talk and then our parent volunteers gave their families a tour of campus and the Watson and Poynting Buildings. Our annual Pizza Quiz ran in-person this year on Physics Bridge and we enjoyed free pizza provided by the School of Mathematics! We would like to really thank all our 31 maths parents who helped our 187 freshers who took part in the Scheme.
Once term began we hosted our EGM to elect members to fill our empty spots in committee. Following this, we welcomed Charlie Betts as our new Vice President, Eshe Jones as our second Social Secretary, and Katherine Guthrie as Volunteering Officer. Charlie, Eshe and Katherine have already worked exceptionally hard on committee and have shown great dedication to their roles.
We were also lucky enough to host many socials this term – one of which was included our bar crawl attended by over 200 students. This was our first major social in two years and we all enjoyed socialising without COVID restrictions! Later in the term, we had a night out at Ghetto Golf (crazy golf to you and me) and had our Christmas party at Circo where we gave out many prizes for raffles and best dressed. We even hosted a movie night and enjoyed watching Shrek 2!
Some of our events involved working with the School of Mathematics, including the careers event (including free pizza!). We also worked with our equivalent MathSoc at Imperial College London to host The International Mathematical Modeling Challenge (IM2C). Three UoB maths students and I sat a three-hour paper with very challenging maths problems with the chance of attending the second round at Imperial College in London (fingers crossed that the results are good!). Some of our members are currently training to tutor at Dame Elizabeth Cadbury School so we wish them the best for the completion of their training and imminent workshops!
As usual, we offer our members the opportunity to participate in regular sport for free. We have had more than 20 members play across our five football matches, two of which we won. We also have very high participation in our netball team. Everyone is excited for the many matches we will play next semester and (hopefully) increase our victories!
As a committee we have been proud to deliver a diverse range of events for students in the School of Mathematics and the wider student community. We are really looking forward to delivering more events next semester including our biggest event of the year, our rescheduled Bake-Off event, and of course our annual ball taking place on 18 March 2022. We hope to see you all there!
Ethan Baker
Publicity Officer
University of Birmingham Mathematics Society
To find out more about the Maths student society visit their society website.
There are 41 student groups in the College of Engineering and Physical Sciences. To learn more about their projects and activities head to the EPS Societies homepage.