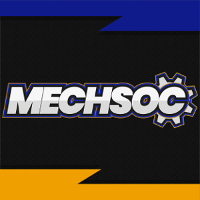 For those who don't know, and as a reminder for those who do, MechSoc is a society that hosts events throughout the year for all mechanical engineers here at the University of Birmingham. The committee aims to organise a diverse range of events from professional talks to nights out all with the purpose of giving mechanical engineers a chance to get to know and have fun with other members of the cohort.
This term has been a busy one as we are trying to make up for all the lost time from the past couple of years. The first big event we hosted was a welcome back bar crawl and it was a very happy return to in-person socials. By all accounts this was a great night (and morning!) that was fully enjoyed by all. It gave those who had just arrived at university a great chance to meet other mechanical engineers in a more informal setting than lectures. Following on from this success, we are hoping next semester may even see us unite with CivSoc for a bar crawl showdown.
Professional and careers events have also come back with full force. Several talks have been given over the semester covering topics such as placement applications and CV workshops. It's important while attending university to also gain the skills needed to make a successful application for either a graduate or placement role.
One of our lovely final year mechancial engineering students, Annabel, presenting information on her summer and industrial placements.
There will also be the chance in the new year to purchase mechanical engineering fleeces and hoodies. These have proved very popular in the past and are a nice memento of the time spent here at Birmingham. Attention is also starting to be given to the Engineering Ball that usually takes place at the end of March. This is arguably the best event MechSoc host throughout the year and it is such a fun opportunity to let loose before the deadlines and exams after Easter. I couldn't recommend the Ball enough so look out for ticket information!
I look forward to seeing you next semester.
Fran
MechSoc President
To find out more about MechSoc visit their society website.
There are 41 student groups in the College of Engineering and Physical Sciences. To learn more about their projects and activities head to the EPS Societies homepage.