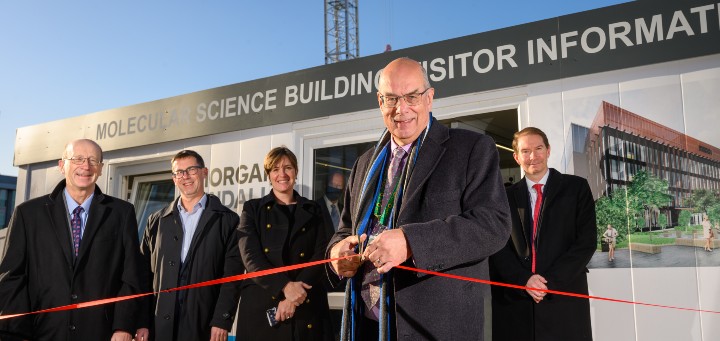 The University of Birmingham officially opened the Molecular Sciences Visitors' Centre on Thursday 2 December, celebrating the start of the newest campus development with Morgan Sindall Construction.
The £56 million flagship project will provide a designated hub for the University's Schools of Chemistry, and Geography, Earth and Environmental Sciences (GEES). The Molecular Sciences building will strengthen core research capabilities in the chemical, environmental and biomolecular sciences, fostering an environment for carrying out world-class research and education. Located on the former Munrow Sport Centre site, this building is the first of a potential four-phase R&D complex devoted to Molecular Sciences research.
Professor Sir David Eastwood, Vice Chancellor, said: "With world-class research and outstanding global education as our core mission, investment in high-quality facilities, space, and equipment are crucial to our teaching, research and innovation.
"The development of the Molecular Sciences Building demonstrates our continued commitment to providing the best facilities for staff, students and researchers, providing a vibrant space to encourage new ways of thinking while promoting interdisciplinary work. It will drive collaboration, facilitating greater opportunities between researchers, industry and partner institutions.
"We are delighted to once again work with Morgan Sindall Construction after the success of our Collaborative Teaching Laboratory (CTL). We look forward to collaborating with them throughout the development process."
Richard Fielding, area director for Morgan Sindall Construction, said: "The University of Birmingham has a deserved reputation as a world-leading, research-intensive university. By investing in this new facility, it is cementing that standing and ensuring the city region will be at the vanguard of physical sciences at a time when these specialisms are in real demand to help tackle the climate emergency.
"We're incredibly proud to partner the University on this project."
Designed by Associated Architects, the five-storey building features cutting-edge equipment for nuclear magnetic resonance (NMR), mass spectrometry, chromatography, and magnetic resonance imaging (MRI). Morgan Sindall Construction has also worked closely on the design with the University's Estates team and Associated Architects to minimise the building's carbon footprint.
For media enquiries please contact Danann Swanton, University of Birmingham.
About Morgan Sindall Construction
Morgan Sindall Construction is a UK business with a network of local offices. Project capabilities cover the entire range of construction activities, from special works and repair and maintenance, to major landmark schemes delivered as standalone projects or as part of larger multiple project frameworks. The company operates across the public and private sectors to deliver the social infrastructure around us – from schools, universities and hospitals to retail, office and leisure environments. Morgan Sindall Construction is part of Morgan Sindall Group plc, a leading UK construction and regeneration group with revenue of £3 billion and which operates through six divisions of Construction & Infrastructure, Fit Out, Property Services, Partnership Housing, Urban Regeneration and Investments.
About the University of Birmingham
The University of Birmingham is ranked amongst the world's top 100 institutions, its work brings people from across the world to Birmingham, including researchers and teachers and more than 6,500 international students from over 150 countries.
About the Molecular Sciences Building
Around two-thirds of the 11,230 square metre gross internal floor area (GIFA) will be high-spec laboratory space; the remainder will be allocated to offices, lecture and tutorial rooms, and flexible spaces for group collaboration.
The building will be EPC A-rated and designed to a BREEAM excellent standard; a notable rating given high specification laboratories typically have higher operational energy requirements due to the nature of research.
Through innovative design choices, the building's 192 fume cupboards will produce fewer emissions than standard variants, due to a reduction in the number of air handling units and the size of the vents.
Raft foundations are being used in place of pile foundations; a design decision that will improve vibration control and reduce the amount of concrete used in the build process.
The project will support work experience, placement and training opportunities for both University students and the long term unemployed. Work packages will be routed through local subcontractors and suppliers. The site team will also be engaging with community groups, in addition to students and staff at local schools.
The building is scheduled to fully open in 2024.