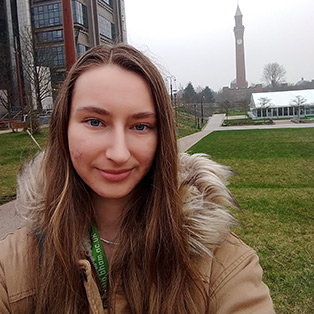 In her latest blog post, BA Ancient History student Elizabeth Owen talks about her interest in Egyptology, academic writing and the variety of modules on offer within the Department of Classics, Ancient History and Archaeology.
One of the great things about studying a course in the CAHA department is being able to take a wide variety of modules. I have taken modules which are archaeology based and others that focus more on history, as well as languages (Latin and hieroglyphs). I feel learning through these different approaches in such a cohesive way has given me a better understanding of ancient societies. After all, the ancient past was a lived experience!
Egyptology is one discipline that I have become particularly interested in. One of the reasons I have been drawn to it is the way it brings together the history, archaeology and language of ancient Egypt. Taking the module 'An Introduction to Egyptian Language' has been especially interesting. I am now able to look at inscribed museum artefacts and see more than just a pattern of symbols and birds, which is really cool!
It has also been interesting to take this module alongside 'Imperial Egypt', which focuses on the 18th to 20th Dynasties (1550 to 1070 BCE). Due to my knowledge of hieroglyphic writing, I have been able to recognise certain elements of the inscriptions looked at in lectures and seminars, for example words and phrases on offering stelae.
One particularly valuable thing I have learnt while studying Ancient History relates to how to approach academic writing. In first year, my tutor told be that when writing an essay it is important to consider what it is you want to say. This may not seem very ground-breaking to some, but for me it was a bit of a light-bulb moment and has helped my academic writing massively.
Essay writing at university gives you the opportunity to write about and explore what you think is important within a particular module topic. Lectures and reading give you the knowledge you need to form your own opinion and be critical of scholarship; seminars allow you to discuss what you have read and analyse, in detail, the primary source material.