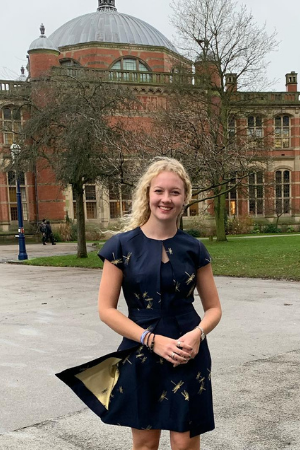 PhD Classics, Ancient History and Archaeology student Hebe Barlow loved studying at the University of Birmingham as an undergraduate student so much that she decided to return as a postgraduate. She tells us about her favourite things to explore on the University campus.
Whenever someone asks me what the best thing about the University campus is, the first thing I always think about is its variety. Throughout the academic year Campus is always buzzing with energy and life, and there always seems to be something going on!
During the last few years, I've had the opportunity to do things I never expected to be part of my University experience. I've petted goats and reindeer in Chancellor's Court, and have cuddled with Guide Dogs at the Guild. I've played miniature golf and giant chess with friends in the sunshine, visited the Lapworth Museum's T-Rex skeleton, and tried Caribbean street food and ostrich burgers for the first time. I've celebrated the end of exams at Joe's Bar with the University Challenge (a truly enormous ice-cream sundae), and the submission of my dissertation with a trip to the Uni's waffle stand.
Every fifth of November has been spent in the Vale, riding fairground rides, eating candyfloss, and watching spectacular firework displays. At Christmas I've visited the campus Christmas fair, watched children and students ice-skating in front of the Great Hall, and ridden in a Ferris wheel next to Old Joe in the snow. I've had snowball fights, built snowmen, and attempted to toboggan with borrowed food trays. In the summer I've had picnics in the sun, taken trips to the ice cream van in-between revision sessions, and gone for an explore at the Winterbourne House and Gardens. I've learnt the annual events to look forward to each academic year, but also the importance of keeping an eye out for new and random things to try.
The variety of events and activities at the University doesn't just keep things interesting, it also ensures that everyone can find something that appeals to them. From the moment you step onto Campus there's an endless stream of opportunities to choose from. There are more than 500 student societies, offering the chance to get involved with everything from Acapella, Middle Earth, Investment, Skydiving or Cocktails. These groups are open to everyone, and can be an opportunity to either connect with others who share the same passion as you, or to try something entirely new! And if you think something's missing, there's always the option to start a new group.
There's the Bramall Music Building, which offers the opportunity to participate in a variety of musical groups, or simply to be a spectator for various events in its 450-seat concert hall. Whether you want to listen to a talk from an Everest explorer, a Great British Bake Off winner, a concert by a Philharmonic Orchestra, or sing along with classic Christmas carols, there's always an event to look forward to. And of course, there's the sport. With over 55 sports clubs the university offers activities at a range of abilities ranging right from beginners to national and international levels. Uni offers you the chance to try a sport you may never even have heard of before – Aussie Rules, Ninjutsu or Korfball. Or if (like me) you're not particularly sporty, there's always the option of participating in inter-course matches, or trying an exercise class like Zumba or Body Attack.
No matter who you are, or what you're interested in, there's something on Campus which will appeal to you. The enormous variety of activities, sports, clubs, and events is both the best and most frustrating thing about Campus – no matter how many you experience, there will always be more out there to try!