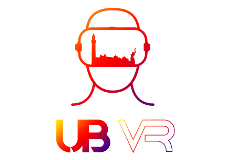 Despite the ongoing pandemic, the University of Birmingham Virtual Reality Society has had a fantastic first year. We are proud to have been able to grow our society, increase our membership numbers and hold lots of exciting events. And all of this was done virtually!
One of the biggest challenges for us this year was attracting new members and maintaining the interest in UBVR. Especially as a brand-new society, we wanted to ensure that we were able to reach out to a diverse community, regardless of their degree background or whether they had any previous interest in Mixed Reality (XR). To maintain high engagement, we created a Discord server for the society to allow all our members to interact with each other virtually. This facilitated various conversations throughout the year from interesting XR project ideas to suggestions for new starters on getting the most suitable VR equipment. It also provided a great platform for us to highlight any interesting opportunities related to XR, such as internships and scholarships, that we were able to find for our members.
With the aim of being as inclusive a society as possible, we hosted various exciting events throughout the year which would allow beginners to learn more about the world of VR and AR and get stuck in. These ranged from seminars on the use of XR in various fields, to workshops and projects.
One of our highlights was being invited to host a workshop as part of the University's UoBe Festival! Led by our Unity Lead, Michal, we delivered a follow-along AR workshop that explored the basics of using the Unity software and how to create XR projects. In the second half of the workshop, we built our very own AR app that would allow the Old Joe clocktower to come to life in your own living room!
Other highlights include our collaborations with societies at the University of Leeds , which is home to our sister XR society. These ranged from seminars on the use of XR in healthcare, gaming and radiology. We also organised our very first VR gaming session during the middle of the semester to help students relax and de-stress. We were joined by our Student Rep, Luke, who led us through a game of Pavlov, a multiplayer VR game.
Finally, to top it all off, UBVR are proud to have been shortlisted for three EPS Societies' Awards! The nominations were for the 'Industrial Award', 'Outstanding Event Award' and 'Society of the Year 2020/21'. Although we may not have won the awards, the nominations truly reflect the efforts and hard work of the committee in making the most of this year and doing a great job at organising enjoyable and stimulating events!
I am grateful to all the current committee for the time they spent organising sessions throughout the year. Ironically, VR events are actually a lot harder to hold virtually than normal, due to the lack of accessibility of VR hardware for one reason, and it was through hours of preparations that led to successful workshop sessions.
As the next year approaches, we are excited at the many opportunities ahead of us! We look forward to welcoming students to our Immersive Technologies Lab in the new CTL building once the new academic year starts. Here we will be able give students a makerspace to experiment with various equipment such as VR headsets, Arduino kits and 3D printers. This will also allow groups to work together on interesting XR projects in partnership with our staff collaborators.
If you are interested in learning more about XR, follow us on Facebook and Instagram with @uob_virtualreality; keep an eye out on the UBVR website for more information about sign-ups for next year!
I wish the incoming committee the best of luck!
Ramsha Zahid
Outgoing President and Co-founder of UBVR
To find out more about UBVR visit their society website.
There are 41 student groups associated with the College of Engineering and Physical Sciences. To learn more about their projects and activities head to the EPS Societies homepage.