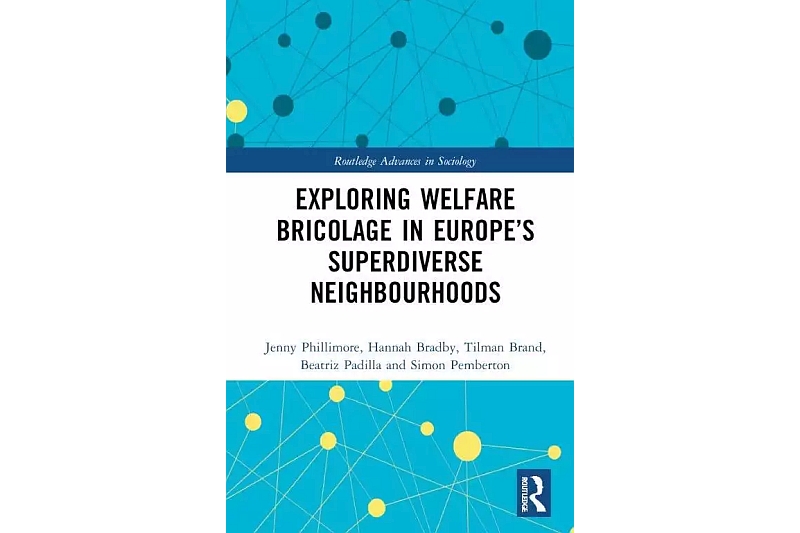 A new book which focuses on increasing population diversity and what this means for how local communities, health and welfare providers seek to address everyday health concerns will be launched and co-hosted by the Institute for Research into Superdiversity and the School of Social Policy at the University of Birmingham.
Exploring Welfare Bricolage in Europe's Superdiverse Neighbourhoods, authored by the University of Birmingham's Professor Jenny Phillimore along with fellow co-authors Professor Hannah Bradby (Uppsala University), Dr Tilman Brand (Leibniz-Institut für Präventionsforschung und Epidemiologie), Professor Simon Pemberton (Keele University) and Dr Beatriz Padilla (University of South Florida) and published by Routledge, offers a unique insight into what people and providers actually do when faced with health concerns. The book highlights the role of structure and agency and moves beyond conventional approaches that focus on specific groups or sectors to research health and welfare by looking at whole populations and entire welfare ecosystems. The book's theoretical, methodological and empirical contributions will be of use to scholars, practitioners and policymakers interested in welfare, healthcare, diversity and migration.
The launch event, which will be chaired by Professor Nando Sigona, Director of IRiS and will feature Professor Beth Maina Ahlberg, Professor Steve Vertovec and Professor Fiona Williams will discuss the key subjects such as insight into the complex and intricate actions which vary over space and time, implemented in four European countries each with different health and welfare traditions. The event will also discuss the concept of welfare bricolage using it as a mechanism to explore structures and rationales underpinning need and actions, and how resources are connected across welfare regimes and borders and within locales.
Commenting on the book Professor Jenny Phillimore said: "This book draws on data collected in four European countries with different welfare regimes to introduce the idea of "welfare bricolage" to help increase understanding of the ways in which residents and service providers living and working in superdiverse areas respond to health concerns. It offers unique insights to the challenges and opportunities faced, highlights emergent practice and sets an agenda for new ways of meeting need in neighbourhoods where demographic complexity is the norm."
The authors themselves will use the opportunity to discuss their views and findings while writing the book and will take questions and answers from participants.
When: 7th September 2021, 9-10.30 BST
Venue: Online - Booking details
Note to Editors:
For more information please email Hasan Salim Patel, Communications Manager (Arts, Law and Social Sciences) or call on +44 (0)7966 311 409 or out of hours office number on +44 (0)7580 744943.
The University of Birmingham is ranked amongst the world's top 100 institutions. Its work brings people from across the world to Birmingham, including researchers, teachers and more than 6,500 international students from over 150 countries.
The Institute for Research into Superdiversity (IRiS) works to advance and promote the University's expertise in the emerging field of superdiversity. We are the first institute in the UK and one of the first globally to focus on superdiversity.
Authors biographies
Professor Jenny Phillimore is Professor of Migration and Superdiversity at the University of Birmingham. She was founding Director of IRiS and works on superdiversity and access to welfare, refugee resettlement and refugee integration. Her recent work focuses on the ways in which communities, institutions and societies can adapt to increasing diversity.
Professor Hannah Bradby is a sociologist of health and illness, trained in Scotland and England, currently teaching in Sweden and Switzerland. Her research deals with how contested meaning and discriminatory processes that play out in healthcare and has been published in articles, books and encyclopaedia entries over the last 25 years.
Dr Tilman Brand is head of the research unit Social Epidemiology at the Leibniz Institute for Prevention Research and Epidemiology - BIPS in Bremen, Germany. In his research he focuses on health inequalities with specific reference to gender and migration as well as community-based approaches to health promotion.
Dr Beatriz Padilla is Associate Professor and Director of the Institute for the Study of Latin America and the Caribbean at the Department of Sociology, University of South Florida.
Professor Simon Pemberton is Professor of Human Geography at Keele University, UK. His work focuses on the relationship between migration and place, urban planning responses to new migration flows and the empowerment of migrant communities.
Commentators biographies
Professor Nando Sigona is a social scientist with over fifteen years research and teaching experience in migration, refugee, citizenship and ethnic studies. He is the Director of the Institute for Research into Superdiversity (IRiS) and a Research Associate at the University of Oxford's Refugee Studies Centre.
Professor Beth Maina Ahlberg is a retired Professor in International Health. She has conducted research for many years in eastern and southern Africa and Sweden focusing on methodological issues in the study of sexual and reproductive health, gender, migration and health and HIV and AIDS and has a major interest in participatory action research.
Professor Steve Vertovec is Founding Director of the Max Planck Institute for the Study of Religious and Ethnic Diversity, Göttingen, Germany. Previously he was Professor of Transnational Anthropology at Oxford University and Director of the Centre on Migration, Policy and Society (COMPAS).