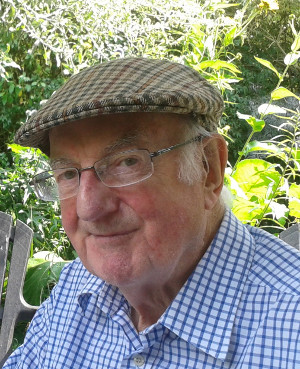 We are delighted to announce a new bursary to support students in the School of Engineering who are experiencing financial difficulty.
Thanks to the generosity of Emeritus Professor Barry Peter Hughes and his family, the Professor BP Hughes Bursary will support Engineering students experiencing hardship and facing unexpected financial challenges. This Bursary will provide comfort, security and peace of mind for cohorts of engineering students across the next decade.
'Our father is a firm believer that a person's finances should not be a barrier to their education or start of their career. Throughout his years lecturing, he saw many students whose financial difficulties made their studies harder, and he wants to do what he can to support them in the future.' – Sara and Rowan Hughes
Barry Peter Hughes, born 29 August 1932, is Emeritus Professor of Civil Engineering. He devoted most of his working life to Civil Engineering at the University of Birmingham, and spent many rewarding and enjoyable years involved in research and lecturing, encouraging and supporting students in their careers. Through the Professor BP Hughes bursary he hopes to continue that support and encouragement to undergraduate and postgraduate students who are experiencing financial difficulties. Barry is a firm believer that a person's finances should not be a barrier to their education or start of their career.
'Professor Hughes had a distinguished career, teaching many students during his time at the University. The new Bursary creates a significant impact supporting our most vulnerable students and continuing Professor Hughes' legacy. These generous awards will help students cope with the hardships they experience and ultimately overcome barriers to their academic progress.' Professor Karl Dearn, Head of Civil Engineering.
The Professor BP Hughes Bursary is open to all undergraduate and postgraduate students in the School of Engineering who are experiencing financial difficulties. Several bursaries of up to £5,000 will be available for students to apply for each year for the next ten years. There will also be the opportunity for students to apply for emergency grants in exceptional circumstances throughout the academic year. Full details of the application process will be announced soon.
'We are delighted to be able to offer the Professor BP Hughes Bursary to students within the School of Engineering experiencing financial hardship. The donation from the Hughes family in supporting students within the School is hugely appreciated, and their generosity will have a hugely positive impact of students in need over the next decade. I very much look forward to welcoming the Hughes family on to campus to thank them in person.' Professor Clive Roberts, Head of the School of Engineering.
Barry was the youngest of four brothers. He is a perfectionist, skilled in carpentry and DIY, having gained much expertise from his father who was a master carpenter and ran a building company. He was educated at Wolverhampton Grammar School and qualified in Civil Engineering at Birmingham in 1953 and achieved his Doctorate (PhD) there in 1956.
Barry met his wife Anne, a chiropodist, at St Philips Church, Penn Fields, Wolverhampton when they were teenagers. They met up again a few years later and married at St Philips enjoying over 62 years of married life together. In 2017 they celebrated their Diamond Wedding Anniversary with friends and family from far and wide. Barry and Anne were blessed with three children, Rowan, Hilary and Sara, three grandchildren Lara, James and Ben, and great grandchild Mila. Tragically, they lost their daughter Hilary in 2012 which affected them both badly, and sadly Anne passed away in 2020. Throughout his life Barry has been strengthened by a strong personal Christian faith. He also enjoyed sailing, playing bridge, chess and in later years playing bowls and loved travelling abroad with Anne.
His wife Anne's steadfast support for Barry enabled him to achieve great success at the University of Birmingham. These achievements included: Higher Doctorates (DSc) 1972 and (DEng) in 1990; Chairman, Midlands Branch ISructE 1976-7 and Chairman, West Midlands Region Concrete Society 1974-5; FICE (Fellow of the Institution of Civil Engineers, Elected Member 1961); and FIStructE (Fellow of the Institution of Civil Engineers, Elected Member 1969). He spent a short time in the private sector before he starting lecturing, working for John Laing Construction Ltd and as a Concrete Control Engineer with AEI-John Thompson Nuclear Energy Co Ltd (1956-1959) at Berkeley Nuclear Power Station one of the UK's first generation of nuclear reactors.
Barry's publications include a textbook on 'Limit State Theory for Reinforced Concrete Design' which went through three editions over 10 years. He produced well over one hundred research and design papers on structural concretes, concrete materials and mix design, special and fibre concretes, crack control of concrete structures, water retaining structures, impact resistance of reinforced and prestressed concrete members.
He also authored numerous reports concerning various design and construction investigations and assessments including accident and impact damage to Cast Iron Bridge; fibre reinforced concrete slabs; S/S reinforced insulated cantilever slabs; pre-stressed concrete slabs; reinforced concrete multi-storey car parks; concrete mix design and quality control; concrete additives and durability; curling of ground floor slabs; seepage through reinforced concrete sump walls; cracking and leakage in water retaining structures including reservoirs, water treatment works; very high grade castable materials for security purposes including bank vaults, safes and fire resisting cabinets; and testing and development of patented components or systems such as prestressed concrete intergrid construction, concrete anchorages, flooring systems and construction equipment.
In later years, Barry produced major reports and consulting advice on the Main Channel Tunnel Rail Track Base (Eng & Power Development Consultants Ltd) and Channel Terminal Loop Tunnel Crack Control and Durability (Mott Hay & Anderson). The Channel Tunnel or Eurotunnel connects Folkestone, Kent with France beneath the English Channel at the Strait of Dover. At 23.5 miles, the tunnel has the longest underwater section of any tunnel in the world and is the third longest railway tunnel in the world. At its deepest point it is 75m deep below the sea bed.
He also worked on an appraisal and recommendations following a crack review of 4m diameter prestressed concrete cylinder pipeline (Man-Made River Authority, Libya).The Great Man-Made River (GMMR) is a network of 1,750 miles of pipes that supplies fresh water obtained from Nubian sandstone aquifer system across Libya. It is the world's largest irrigation project, provides 70% of all freshwater in Libya and has been described as the 'Eighth Wonder of the World'.
Thank you again to Professor Hughes and his family for their generous support. For further information on financial advice and support for students visit https://intranet.birmingham.ac.uk/student/financial-support/index.aspx.
Bursaries such as this are made possible by the generosity of alumni and friends of the University. You can find out more about the College of Engineering and Physical Sciences' alumni community at www.birmingham.ac.uk/eps-community. If you would like to make a donation or get involved to support our students we'd love to hear from you; please email Grace Surman, College Alumni Relations Manager, on g.surman@bham.ac.uk.