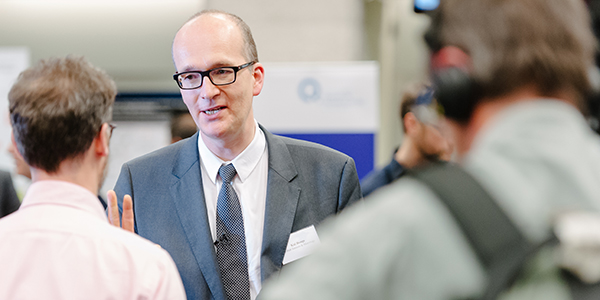 We are delighted to announce on 30 September during SPIE Photonex in Glasgow, the launch of the new SPIE Optics and Photonics Champion Academy at the University of Birmingham. The $400,000 gift from the SPIE Endowment Matching Program will be matched 100% by the University, and the $800,000 fund will support and train students to become influential science communicators and aspirational role models in light-based technologies, with a further goal of growing the pipeline of future scientists and engineers.
SPIE, the international society for optics and photonics, supports research and collaboration in the optics community through its publications, its membership program, and its 20+ annual conferences and exhibitions across the globe. The Society's numerous programs and services promote the development and commercialization of light-based technologies, from biomedical optics for imaging, diagnostics, and treatment, to fibre optic cables that use pulses of light to provide high speed internet, to lasers and LEDs, used throughout our homes, cars, medical devices and more.
The aim of the Academy is to create a diverse range of optics and photonics SPIE Champions, who will develop solutions to challenges of large societal and economic value, such as climate change, securing autonomous vehicles and enabling novel brain diagnostics for the wellbeing of the ageing society. The first cohort of Champions will be encouraged to focus their research on optics and photonics in relation to quantum technologies and tackling pandemics.
This initiative is specially aimed at early career researchers and PhD students in optics and photonics, particularly in underrepresented groups, to help grow a broad, diverse and energising network of SPIE Champions, supported through a range of awards and activity grants. The impact of the Academy is hoped to grow annually as each generation transitions to industry, develops their research further and ultimately continues to advance the role of light-based science in bettering the human condition.
This extensive research expertise will in turn help to build on the extensive range of existing optics and photonics modules at the University of Birmingham, and prizes will be awarded to encourage innovative research achievements.
The Academy will be chaired by Professor Kai Bongs, Principal Investigator at the UK Quantum Technology Hub Sensors and Timing and Professor Iain Styles, Director of the Institute for Interdisciplinary Data Science and AI, who will develop and coordinate the SPIE Champions Academy Curriculum to support SPIE Champions to develop their skills and experiences not only in their academic research, but also in science communication and presentation skills.
Professor Kai Bongs says: 'We are delighted to be able to work with SPIE to launch this unique Academy at the University of Birmingham. This initiative will help to accelerate the growth of optics and photonics expertise, which will have great impact far beyond the University. Our hope is to not only encourage this learning, but to also create awareness of the huge importance of this subject area in tackling real-world problems.'
Professor Iain Styles says: 'By equipping early career optics and photonics researchers and PhD students with skills in advanced data analysis, we will help to accelerate the translation of these exciting technologies from the laboratory to their adoption in real-world applications. Our SPIE Champions will be able to work with experts in diverse application areas such as healthcare and climate monitoring to develop end-to-end optics-based solutions with integrated analytics for some of our most pressing challenges.'
'By offering direct, experiential training in quantum technology and biomedical imaging as well as highlighting various career options in the field, the SPIE Optics and Photonics Champion Academy will develop a natural pipeline of future professional scientists and engineers in these fields,' noted SPIE President David Andrews. 'And by encouraging students to actively raise awareness of the impact of optics and photonics to their contemporaries, peers, and younger colleagues, the program will be creating visible, engaged role models for future generations.'
The SPIE Optics and Photonics Champion Academy is due to launch in September 2021. For more information about this initiative, please get in touch with Elizabeth Watts.