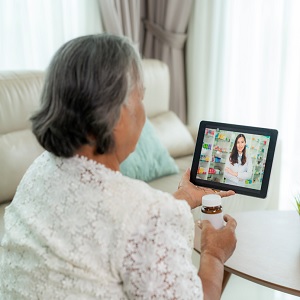 The University of Birmingham has today announced a partnership with med-tech company Aparito to co-develop digital platforms to assess patient quality of life and symptoms in clinical trials and routine NHS care.
The partnership will see the configuration of Aparito's flagship software platform Atom5™, and brings together international experts in patient-reported outcomes (PROs) methodology and input from patients and clinicians, with cutting-edge and innovative technology.
The aim of the partnership is to co-develop multiple digital PROs for use in a wide range of disease groups to assess treatment safety and effectiveness from the patient perspective and enhance the patient experience of clinical trials and routine care. These data will support patient care and provide evidence to inform regulators and policy makers such as the Medicines and Healthcare products Regulatory Agency (MHRA), and the National Institute for Health and Care Excellence (NICE).
Professor Melanie Calvert, National Institute for Health Research (NIHR) Senior Investigator and Professor of Outcomes Methodology at the University of Birmingham's Centre for Patient-Reported Outcomes Research (CPROR), said: "It is essential that we capture information on the impact of disease and treatment on patient symptoms and quality of life.
"This information can help regulators decide if a treatment is safe and effective and answer important questions from patients such as 'how will it make me feel?'
"We are delighted to be partnering with Aparito to use cutting edge methodology and technology to advance this area and benefit patients."
Dr Elin Haf Davies, CEO of Aparito, which is based in Wrexham in the UK and Leiden in the Netherlands, said: "We are highly honoured to enter into this partnership with the CPROR at the University of Birmingham.
"Professor Melanie Calvert and her team are highly regarded and international leaders in PRO methodology. We very much look forward to expanding on this work to provide a digitalised and personalised solution, in 2021 and beyond."
One of the projects is the new National Institute for Health Research Surgical Reconstruction and Microbiology Research Centre (NIHR SRMRC) 'PRiORiTy' (Patient Reported Outcomes Research in Trauma) study.
In this study, the team of experts at the University of Birmingham and University Hospitals Birmingham NHS Foundation Trust will assess patient symptoms following traumatic brain injury to help tailor care to patient needs.
This is an important issue for patients, as mentioned by Luke and Jackie Flavell, patient advocates involved in the design of the study. They said: "We feel it is really important for patients to report symptoms of traumatic brain injury as early as possible and doing this electronically would save valuable time and improve patient care. We are very much looking forward to working with CPROR on the PRiORiTy study."
Daniel Lewi, Head of Business Development at Aparito, added: "Working with the team at University of Birmingham to provide a technology solution for PRiORiTy has highlighted how deeply clinicians care about the patient experience and how they can improve treatment within the patient cohort. "Having such an approachable and knowledgeable team has allowed the University of Birmingham to detail very specifically how we can adapt our Aparito Atom5™ technology to really change a patient's life and we cannot wait to work with the team again on future projects."
ENDS
For more information, please contact Emma McKinney, Communications Manager, University of Birmingham, on +44 7815607157. Alternatively, contact the Press Office out of hours on +44 (0)7789 921165.
Notes to Editors
About Aparito
Aparito is a med tech company who specialise in capturing patient generated data and developing digital endpoints remotely. Aparito is a leader in innovative, patient-centric remote monitoring solutions, integrating specialist clinical and regulatory knowledge with the technology to gather highly relevant patient-generated data across all patient groups.

About the University of Birmingham
The University of Birmingham is ranked amongst the world's top 100 institutions, and its work brings people from across the world to Birmingham, including researchers and teachers and more than 6,500 international students from nearly 150 countries.
About the University of Birmingham's Centre for Patient Reported Outcome Research (CPROR)
CPROR is committed to optimizing the use of PRO's in clinical trials and routine care, to improve service delivery, enhance patient care and outcomes and ensure that the patient perspective is at the heart of health research and NHS decision making. The Centre has led the development of international guidelines for the use of patient-reported outcomes in clinical trials and works closely with patient partners, clinicians, regulators and policy makers to ensure these data address their needs.
About NIHR
The National Institute for Health Research (NIHR) is the nation's largest funder of health and care research. The NIHR:
Funds, supports and delivers high quality research that benefits the NHS, public health and social care
Engages and involves patients, carers and the public in order to improve the reach, quality and impact of research
Attracts, trains and supports the best researchers to tackle the complex health and care challenges of the future
Invests in world-class infrastructure and a skilled delivery workforce to translate discoveries into improved treatments and services
Partners with other public funders, charities and industry to maximise the value of research to patients and the economy
The NIHR was established in 2006 to improve the health and wealth of the nation through research, and is funded by the Department of Health and Social Care. In addition to its national role, the NIHR supports applied health research for the direct and primary benefit of people in low- and middle-income countries, using UK aid from the UK government.
This work uses data provided by patients and collected by the NHS as part of their care and support and would not have been possible without access to this data. The NIHR recognises and values the role of patient data, securely accessed and stored, both in underpinning and leading to improvements in research and care. www.nihr.ac.uk/patientdata