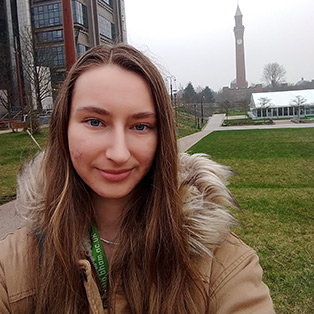 BA Ancient History student Elizabeth Owen tells us about studying at the University of Birmingham.
My name is Elizabeth. I'm in my second year studying Ancient History and I'm from around Milton Keynes.
I chose Birmingham after coming to an Open Day. I went to a taster lecture and decided Ancient History was definitely right for me!
My favourite module so far was probably the first seminar-based module I did. It was called 'A Day at the Place of Truth' and was about the ancient Egyptian village of Deir el-Medina. This was where the workers who built the tombs of the Valley of the Kings lived and is significant because of the insight it provides into daily life. I would really recommend taking this module!
I studied modern history at A Level. I have found ancient history to be completely different in terms of approach. For example, I have been encouraged to look at both archaeological and textual sources which I feel has given me a greater understanding of the ancient past. Overall, I have found learning at university much more enjoyable than A Levels. At university you get a much better depth of knowledge and understanding.
The most challenging aspect of studying my course has been online learning during lockdown. I have found the weekly group tutorials to be a big help in terms of structuring my week and motivating me to stay on top of work.
One highlight from my time here so far is visiting the Eton Myers Collection of Egyptian antiquities, which is on loan to UoB, and being able to hold some of the objects. Another would be receiving my grade for the first summative essay I did. After struggling through A Levels, it felt absolutely amazing to achieve a First at university!
After university I plan to do a Masters degree. I'm not sure where yet but I am definitely considering staying at UoB!
I am Chair of the Social Introverts Society (yes, there is such a thing!). Although society events have had to be online this year, I have still found being on the committee a valuable experience and I'm staying on for next year. If you're nervous about making friends at uni I'd really recommend joining!
The best thing about my course has to be the ability to take modules across a wide range of areas. I've become particularly interested in Egyptology, which I did not expect when I first started. Also, although my course is Ancient History I have been able to study archaeology and language modules (Latin and hieroglyphs).