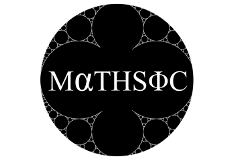 Despite another term of society-life during a pandemic, MathSoc have been very busy running events ranging from quizzes to revision sessions and even a game of rounders when restrictions allowed.
We kicked off 'Fundraising February' with a charity poker night and raised a wonderful £136 for Birmingham Children's Hospital; this event was a huge success with a big (virtual) turnout. MathSoc members also raised an incredible £3455 for the charity Mind in the EPS Running Festival organised by ChemSoc, so a massive thank you to everyone who got involved!
The most successful event of the year has to be the 'Staff vs Student University Challenge' quiz which was held virtually via Zoom in February. Over 60 spectators watched a team of four students battle it out against four staff members from the School of Mathematics. It was a great opportunity for students to get to see staff outside of lectures and who doesn't love a bit of friendly competition! Before Easter we also held an event ran by Teach First to help students with their public speaking before their presentations and posted a series of informative videos for International Women's Week.
Over Easter we held our annual general meeting (AGM) and elected the committee for the coming year! The incoming and outgoing committees have been working together since Easter to put on our first in-person events of the year. Campus league made a return so football and netball ran weekly training sessions and matches, there has also been a series of sport socials which has been great for the teams to get to know each other!
Being sure to stay within the guidelines, MathSoc ran an afternoon of rounders with the chance to socialise afterwards. This was a great way for people to meet up for the first time outside of their course. We also held a fun evening at Circo in Selly Oak where people got to socialise in-person and it was another opportunity for people to meet outside of learning. In addition, we released merchandise for the first time so members now have the chance to wear their fabulous MathSoc fleeces!
A massive thank you to the current committee for all their hard work and congratulations to the new committee:
President - Dimitrios Kotsis
Treasurer - Stylianos Ramfos
Secretary - Henry Langer
Volunteering Officer - Benjamin Smith
Social Secretary- Jack Mortimer
Sports Officer - Jake Littlewood
Publicity Officer - Ethan Baker
Despite an unusual year we have had the best time running events for our members; thank you all for joining in and I wish the absolute best to the incoming committee for the year to come!
Megan Jenkins
Outgoing MathSoc President
To find out more about the Maths student society visit their society website.
There are 41 student groups in the College of Engineering and Physical Sciences. To learn more about their projects and activities head to the EPS Societies homepage.