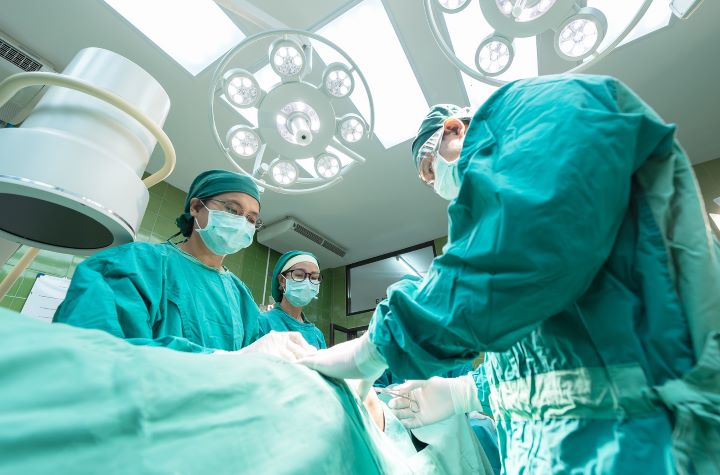 An additional 100,000 elective operations could be cancelled in England this winter as a result of the Omicron wave leading to increased hospital admissions, a new study reveals.
The modelling study, published as a peer-reviewed research letter in The Lancet, finds that the number of elective operations performed each week is closely related to the number of patients in hospital with COVID-19.
Led by researchers at the University of Birmingham, the research team used NHS England data from September 2020 to July 2021 to develop a model to project elective surgery activity based on the number of COVID-19 patients in hospital.
Using this model, they estimate that, in the first two weeks of October 2021, the volume of elective operations in England was reduced by 21.9% (a drop of 14,348 operations per week) compared to the pre-pandemic period.
However, if the number of patients in hospital in England with COVID-19 increases to the levels seen in the first COVID-19 wave in April 2020, the volume of elective operations in England would be cut by 33.9% (a drop of 22,147 operations per week) compared to pre-pandemic.
This means that an increase in the number of COVID-19 admissions from October 2021 to April 2020 levels would result in 100,273 fewer elective operations performed over the three winter months (December 2021 to February 2022).
Projections for reduction in elective operations across a range of scenarios is provided below.
Mr. Aneel Bhangu, Consultant Surgeon and Senior Lecturer at the NIHR Global Health Research Unit on Global Surgery at the University of Birmingham commented: "Our study shows that as more COVID-19 patients are admitted to hospital, surgical units are forced to cancel elective operations to release capacity to treat COVID-19."
"Hospitals work hard to prioritise life-saving operations, including those helping cancer patients. The greatest impact of hospital pressures from COVID-19 is on patients waiting for non-life saving, but quality of life transforming surgery.
"Cancellations may mean that patients wait even longer for operations like hip replacements, resulting in deterioration of their symptoms and increased disability. Ringfenced elective hubs are urgently needed to protect elective surgery this winter."
Dr. Dmitri Nepogodiev, Research Fellow at the NIHR Global Health Research Unit on Global Surgery at the University of Birmingham said: "Surgical patient numbers have been reduced by the measures hospitals have taken to ensure patient safety and reduce the risk of SARS-CoV-2 infection in hospital. These numbers are further diminished by each incremental increase in COVID-19 admissions to hospital."
For more information, please contact Tony Moran, International Communications Manager, University of Birmingham on +44 (0) 121 414 8254 or +44 (0)782 783 2312 or . For out-of-hours enquiries, please call +44 (0) 7789 921 165. The study was led by the CovidSurg Collaborative, a global research network focussed on the impact of COVID-19 on surgical care.
Over 18,000 surgeons from across 120 countries contribute to CovidSurg studies. To date, the collaborative has collected data on over 190,000 patients undergoing surgery during the COVID-19 pandemic, across 2,006 hospitals. In response to the emergence of the Omicron variant of concern, the CovidSurg Collaborative has launched a new prospective global study in December 2021 to capture the real-world impact of Omicron on surgical patients.
The University of Birmingham is ranked amongst the world's top 100 institutions, its work brings people from across the world to Birmingham, including researchers and teachers and more than 6,500 international students from over 150 countries.
The National Institute for Health Research (NIHR) awarded £7 million to the University of Birmingham to establish the NIHR Global Health Research Unit on Global Surgery. This unit is engaged in conducting multi-country randomised controlled trials testing interventions to reduce SSI across a range of low- and middle-income countries. It has established sustainable partnerships with the aim of leveraging global policy change:
• Benin - University of Abomey-Calavi, Cotonou
• Ghana - University of Development Studies, Tamale
• India - CMC Ludhiana, Punjab
• Mexico - Hospital Espanol, Veracruz
• Nigeria - Lagos University Teaching Hospital, Lagos & Obafemi Awolowo University Teaching Hospitals, Ile-Ife
• Rwanda - University of Rwanda; University Teaching Hospital, Kigali
• South Africa - Chris Hani Baragwanath Academic Hospital, Johannesburg.
The NIHR is the UK's largest funder of health and care research. The NIHR:
• Funds, supports and delivers high quality research that benefits the NHS, public health and social care;
• Engages and involves patients, carers and the public in order to improve the reach, quality and impact of research;
• Attracts, trains and supports the best researchers to tackle the complex health and care challenges of the future;
• Invests in world-class infrastructure and a skilled delivery workforce to translate discoveries into improved treatments and services; and
• Partners with other public funders, charities and industry to maximise the value of research to patients and the economy.
The NIHR was established in 2006 to improve the health and wealth of the nation through research, and is funded by the Department of Health and Social Care. In addition to its national role, the NIHR commissions applied health research to benefit the poorest people in low and middle-income countries, using Official Development Assistance funding.