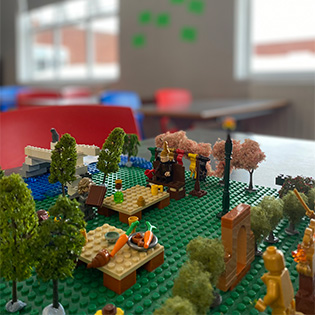 'Ovid in the West Midlands' is a joint venture between the Department of Classics, Ancient History, and Archaeology and the education charity Classics for All, which aims to get Key Stage 3 students excited about storytelling via the mythology of the ancient world.
This Autumn term saw Key Stage 3 pupils from across the region take part in the first iteration of what is set to become an annual fixture on the school calendar. The premise of Ovid in the West Midlands is simple: pupils listen to and discuss recordings of adapted stories from Ovid's Metamorphoses in the classroom, before going on to respond creatively to a myth of their choice.
The response to this inaugural year of the competition has been phenomenal. Participating schools have focused on the myths of Midas, Baucis and Philemon, and Arachne, and shortlisted entries have been flooding in (excuse the pun). There is everything from cakes, to scenes made of Lego, sculptures, poems, and drama. We asked for 'creative' and these pupils have most certainly delivered. The judges are going to have a tough time on their hands to pick some winners!
The prize-giving ceremony will be open to all shortlisted students, their teachers, and their parents and will take place on Monday 13th December at the new University venue, The Exchange. Attendees will be joined by and treated to a performance from a very special guest: Daniel Morden, one half of the storytelling duo responsible for the resources used in the competition.
The competition will begin again with a call for schools in the new year. If you are a teacher and would like to find out more about taking part in Ovid in the West Midlands 2022, please contact Polly Stoker at p.stoker@bham.ac.uk
Pictured: shortlisted entries by children from The Rawlett School, Tamworth.