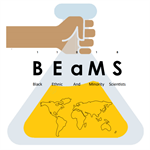 Despite a tough and challenging academic year, the Black, Ethnic and Minority Scientists society persevered to provide suitable virtual opportunities for our members.
We worked with different external organisations including 'Generating Genius'. We promoted some of their opportunities including the 'Black Women into Tech Programme' with some of our members performing very well during the networking, securing graduate jobs from Accenture, a leading consultancy firm in the UK. In the future, we hope to continue expanding our network and work with several external organisations to ensure our members are provided with fun activities and opportunities for career growth.
Towards the end of the academic year, we collaborated with WISE, oSTEM and the 93% Club to organise the annual 'Equal In STEM' conference. This was a series of panel discussions on dismantling prevalent barriers facing STEM students. The panels ranged from 'mental health in STEM' and 'coping in a pandemic' to 'striking a work-life balance'.
These conversations are so important as they provide context, guidance and support in tackling a range of issues minority students may have to deal with. The panellists gave advice on how attendees could maximise their brand to attract employers when seeking internships and graduate jobs. The event was a success and registered satisfactory attendance with diverse speakers from industry and academia. The support from committee members, industry speakers and sponsors made this achievement possible.
On behalf of the BEaMS Society, I wish everyone a well-deserved summer break as we look forward to welcoming new students into the EPS community.
Foday Kamara
BEaMS Co-President 2020-21
To find out more about BEaMS visit their society website.

There are 41 student groups in the College of Engineering and Physical Sciences. To learn more about their projects and activities head to the EPS Societies homepage.