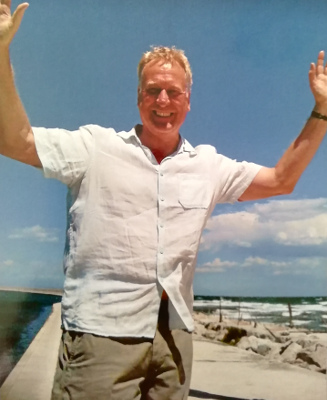 We are saddened to learn of the passing of Ray Fiveash in February 2020. Ray graduated in 2005 with a BSc Computer Science/Software Engineering with Business Studies and thoroughly enjoyed his time at the University. His wife Diana kindly shares the eulogy, which was delivered by their vicar and friend John Tattershall of St. John's Church in Harborne, in the hope to bring peace and fond memories to anyone who knew Ray.
Ray Fiveash was born on 9 November 1952 in Hamilton, Canada. His childhood would see him move to the UK at a young age, and then return to Canada later on as a young adult. He lived a life full of adventure, wide-eyed wonder and excitement, hitchhiking around Europe and North Africa after his A levels, and attending the 1969 Isle of Wight festival and seeing the legendary Jimi Hendrix.
He worked in industries and jobs as diverse as land surveying, telecommunications and IT, even studying for a degree as a Computer Scientist at the age of 50. He also managed to find time to become a Practice Manager of a GP surgery, and even had a go at teaching at King Edwards Camp Hill for Girls. This was a man who loved to try new things and push himself all the time to see what he was capable of. In later years, Ray offered his services to the NIHR Applied Research Collaboration West Midlands and assisted researches in their applications for grants for worthy research projects.
Family life was challenging for Ray. His father passed away when he was 14, something that would leave a deep mark on him. He was raised by his mother Annie, along with his sisters Ann and Jean, and he so loved his family.
Ray enjoyed his sport – cycling and tennis and Aston Villa were keen interests, allowing him to spend time with his friends. And in later years, Ray even turned his hand to bridge, becoming a Director and excelling at that too. He was always trying new things, looking to develop himself and was about to start a History of Arts Open University degree!
He was also keen on politics – previously being known as 'Red Ray' – he was always interested in learning how he could support those who were more disadvantaged than he. At Birmingham University, he would mentor other students in order for them to have similar opportunities to get on in life.
Ray was probably most proud of his children – Bethan and George – who were a source of contentment, joy and happiness for him. His love for Diana, Bethan and George was one of the most important things in his life. They are a happy, close family unit and I remember they were always taking off for energetic holidays, skiing, cycling, walking, sailing etc. and bringing back amazing stories to tell.
The University thanks Diane, Bethan and George, for sharing Ray's story. Our thoughts are with them, their family and friends at this sad time.