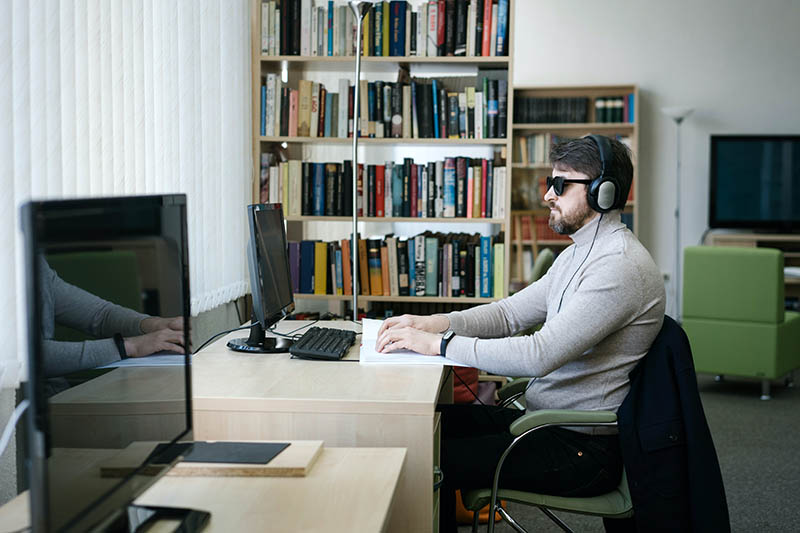 A Longitudinal Transition Study just published by the Vision Impairment Centre for Teaching and Research (VICTAR) at the University of Birmingham and Thomas Pocklington Trust (TPT) shows one in three people with vision impairment did not gain quality employment despite earning qualifications in line with the general population.
The study tracked 82 participants from England over a period of 11 years (from age 14 to 25) to improve understanding on why this population is vulnerable to becoming long term NEET (not in education, employment or training).
Many of the young people spoke positively about their experiences in school and achieved average or above average GCSE qualifications. But then faced a range of barriers when entering Further Education, Higher Education and ultimately the employment market.
Rachel Hewett, Birmingham Fellow at the Vision Impairment Centre for Teaching and Research School of Education, University of Birmingham said: "The research identified key challenges once the young people transitioned into Further Education (FE). Many young people found adjustments were not put in place in time and they had a lack of access to specialist support.
"Careers guidance often focused on keeping the young person in education, with limited support for transitioning into employment. This led to some of the participants 'churning' in the system."
Many barriers were observed once the participants moved into Higher Education, such as an inaccessible application process for UCAS and Disabled Students' Allowance (DSA), and inaccessible virtual learning environments and a failure from institutions to make reasonable adjustments. This led to some of the cohort withdrawing from their courses, repeating modules or entire academic years, or leaving with a degree classification which they feel did not reflect their ability.
Several of the participants wished to pursue apprenticeships but were unable to identify suitable opportunities or access specialist support to help them consider alternative options.
Tara Chattaway, Head of Education at TPT said: "It is evident that young people with vision impairment are not getting the support at transition periods in their lives. The lack of support, accessibility and inclusion can impact on the quality of education the young person receives and on then on their employment opportunities. We are calling on Government to bridge this gap and to ensure that the Skills and Post-16 Education Bill and their response to the impending SEND review truly supports the aspirations and learning needs of vision impaired students."
At the end of the study 66% of the remaining participants were in some form of employment, 17% remained NEET, including seven young people who by the age of 25 had never experienced paid employment. Of particular concern is the lack of support available to help young people with vision impairment access employment once they become NEET, with several of the young people being actively discouraged by Jobcentre Plus staff to search for employment, in favour of long-term benefits.
The research did identify factors that drive positive outcomes for young people with vision impairment. They include:
Self-advocacy skills and a good understanding of their vision impairment and the adjustments they require.
A well developed and broad range of skills for accessing information.
Mobility and orientation skills, including skills for getting around in unfamiliar environments.
Tara added: "At TPT we understand the importance vision impaired students having the right access to materials, assistive technology and independence skills in order to thrive in education and to transition into employment. More must be done."
For more information please contact Hasan Salim Patel, Communications Manager (Arts, Law and Social Sciences) on +44 (0)7966 311 409 or out of hours office number on +44 (0)7580 744943.
For further information or images please contact: Penny Wilkinson, Thomas Pocklington Trust, +44 (0)20 8995 0880 or +44 (0) 7974 578 637 or Leanne Bennett, Thomas Pocklington Trust, 07814 767415 or
Editors' notes:
The study was designed in 2009 by a team from Royal National Institute of Blind People (RNIB) and the Vision Impairment Centre for Teaching and Research (VICTAR) at the University of Birmingham.
Thomas Pocklington Trust has funded the study since 2015. Previous stages have been funded by RNIB and The Nuffield Foundation. Technical reports and briefings are available from these stages are here.
About the University of Birmingham
The University of Birmingham is ranked amongst the world's top 100 institutions, and its work brings people from across the world to Birmingham, including researchers and teachers and more than 6,500 international students from nearly 150 countries.
About Thomas Pocklington Trust
Thomas Pocklington Trust is a national charity dedicated to enabling and empowering blind and partially sighted people of all ages to live the life they want to lead. We are committed to increasing awareness and understanding of their needs and aspirations, to working with partners and to developing and implementing services which meet these needs to increase independence and improve lives. These include:
Acting as an advocate and positive change agent for blind and partially sighted people.
Creating opportunities for blind and partially sighted people seeking employment.
Enabling opportunities and supporting blind and partially sighted people whilst in and entering education.
Facilitating the voice and encouraging self-determination of blind and partially sighted people.
Being an effective partner and grant funder based on our knowledge of the sector.