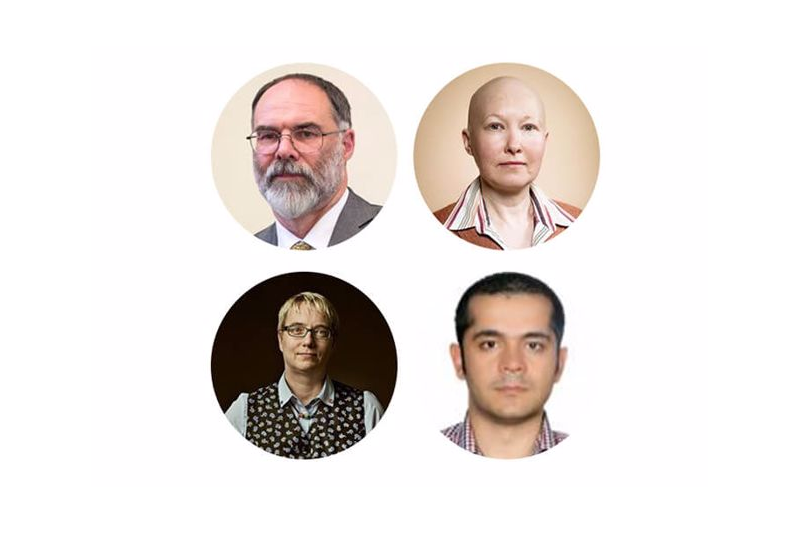 The School of Engineering is delighted to announce that academics have received the James Hill and Richard Trevithick Fund Prizes for outstanding research papers.
The annual awards for the best papers published in the Proceedings of the Institution of Civil Engineers have recognised two streams of the University's infrastructure and urban systems research. Professor Nicole Metje, Dr Aryan Hojjati, Dr Anthony Beck and Professor Chris Rogers received the 'James Hill Prize' awarded since 1997 for the best paper published in Municipal Engineering for their joint paper entitled 'Improved Underground Utilities Asset Management – Assessing the impact of the UK Utility Survey Standard (PAS128)'. Dr Joanne Leach and Professor Chris Rogers, along with Dr Adriana Ortegon-Sanchez and Professor Nick Tyler from UCL, received the 'Richard Trevithick Fund Prize' for the best paper published in Engineering Sustainability for their joint paper entitled 'The Liveable Cities Method: Establishing the Case for Transformative Change for a UK Metro'. This prize is awarded to authors from both industry and academia who have produced work judged by their peers to be of exceptional quality and benefit to the civil engineering, construction and materials science community. Both papers underpin Birmingham's contribution to the UK Collaboratorium for Research on Infrastructure and Cities (or UKCRIC), the capital investment which funded the National Buried Infrastructure Facility on campus and the UKCRIC Birmingham Urban Observatory.
The methodology deriving from Joanne's doctoral study, which lies at the heart of UKCRIC's approach to making effective systemic change happen, derived from the Liveable Cities programme grant led by Chris Rogers. This came hard on the heels of an announcement that a paper entitled 'Engineering Sustainable, Resilient and Liveable Cities' (Rogers, 2018), which combines three of the core methodologies embedded in UKCRIC's approach, is one of the top five most downloaded open access papers ever published in the Proceedings of the Institution of Civil Engineers, in spite of it being published later than some of its rivals (see ICE Top five open access papers). The citation states: "This paper is based on data derived from a portfolio of research programmes, the University of Birmingham's 2014 Future Urban Living report and the findings from the UK government's Foresight Future of Cities project. It has been cited 29 times since its publication in 2018. It shows how civil engineers can build better cities through a deeper understanding of the future benefits, resilience and value of their proposed urban infrastructure solutions." This demonstrates also the power of the University's Policy Commissions in underpinning ground-breaking research. Read the full paper here: Engineering future liveable, resilient, sustainable cities using foresight.
This prestigious award was presented for pioneering research carried out under the 10-year Mapping The Underworld and Assessing The Underworld programmes, which developed technologies for the accurate location of buried utilities such as gas, water, electricity, drainage and sewerage systems. While this enables efficient and effective maintenance, rehabilitation and replacement of utility pipelines and cables, it is particularly crucial for the installation of new utilities as it minimises utility strikes, third party damage and the huge associated costs of delayed/additional street works. The paper demonstrates the impact of PAS128 – Specification for underground utility detection, verification and location, which is the UK standard for utility surveyors and their clients when conducting utility surveys. PAS128 was motivated by industry and practitioners who wanted to create a 'level playing field' and elevate the profession. The paper clearly demonstrates that using a PAS128 methodology increases the detection rate and ensures that clients can be confident of obtaining an equal service if they use a professional who provides a PAS128 service. While currently no accreditation system for this exists, the industry is currently discussing this aspect and training for individuals is available. Overall, the findings from the paper clearly demonstrate that conducting a PAS128 survey reduces the risk of utility strikes, thus increases health and safety, and reduces project costs and overruns. PAS128 is currently under review to include lessons learned from practitioners and the research in the paper.
Parallel work by this team under the Mapping The Underworld umbrella has influenced national thinking on the impact of buried utility strikes: a report and subsequent paper by Dr Lewis Makana and Professors Nicole Metje, Ian Jefferson and Chris Rogers (Makana et al., 2016, 2020) features as one of few references to university research in the National Infrastructure Strategy (HMT, 2020).
Read the full paper here: Improved underground utilities asset management – assessing the impact of the UK utility survey standard (PAS128)
There is currently enormous interest in the creation of sustainable and liveable cities in the UK and worldwide, with national priorities (the move to Net Zero, levelling up) aligning well with international priorities (such as the UN Sustainable Development Goals). While it can be argued that good progress is being made in thinking about the needs of future cities, meeting these needs and aspirations in practice poses major challenges – of understanding and measurement of the root causes of the problems, and creating tools that can deal with the complexity of how people and urban systems interact under dynamically changing contexts (introducing the need for resilience). For our proposed engineering interventions in this system-of-systems, the inevitable question arises: "will interventions made today be relevant and effective in the future?" This award for best paper on 'Engineering Sustainability' recognises the ground-breaking systems approaches that have been developed to meet this challenge.
To find out more, read the full paper here: The Liveable Cities Method: establishing the case for transformative change for a UK metro | Proceedings of the Institution of Civil Engineers - Engineering Sustainability (icevirtuallibrary.com)
HMT (2020). National Infrastructure Strategy – Fairer, faster, greener. HM Treasury, November 2020. ISBN 978-1-5286-2259-2
Leach JM, Rogers CDF, Ortegon-Sanchez A and Tyler N (2020). The Liveable Cities Method: Establishing the Case for Transformative Change for a UK Metro. Proceedings of the Institution of Civil Engineers – Engineering Sustainability, 173 (1), 8-19. Doi: 10.1680/jensu.18.00028
Makana LO, Metje N, Jefferson I and Rogers CDF (2016). What Do Utility Strikes Really Cost? Research Report for the iBUILD Project, University of Birmingham, 84pp.
Makana LO, Metje N, Jefferson I, Sackey M and Rogers CDF (2020). Cost Estimation of Utility Strikes: Towards Proactive Management of Street Works. Proceedings of the Institution of Civil Engineers – Infrastructure Asset Management, 7 (2), 64-76. Doi: 10.1680/jinam.17.00033
Metje N, Hojjati A, Beck A and Rogers CDF (2019). Improved Underground Utilities Asset Management–Assessing the Impact of PAS128 in Practice. Proceedings of the Institution of Civil Engineers – Municipal Engineer, 173 (4), 218-236. Doi: 10.1680/jmuen.18.00055
Rogers CDF (2018). Engineering Future Liveable, Resilient, Sustainable Cities Using Foresight. Civil, Proceedings of the Institution of Civil Engineers – Civil Engineering, 171 (6), 3-9. Doi: 10.1680/jcien.17.00031.