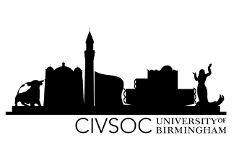 The past year has been very interesting for CivSoc as the society has been constantly adapting to the situation. On the whole, it has been another successful year with countless opportunities for members to get involved.
Since the turn of the year, CivSov has hosted some very important industrial events, most notably an International Women's Day Alumni Networking event as part of the EPS Community 'Meet Your Alumni' series. This featured a handful of our brightest female alumni from recent years. The event gave members the chance to ask questions and share advice about their experience of industry during university and since graduating. This event, alongside an interview preparation talk from the Engineering Industrial Placements Programme (RESPECT) and Q&A about life on placement, gave members the chance to gain some valuable advice.
Socials in the last semester came thick and fast, with five (albeit virtual) socials taking place in the eight weeks following Christmas. These included: 'Cards against Humanity' games night, a quiz, bingo, and socials based on the TV gameshows 'Would I Lie to You' and '8 out of 10 cats does Countdown'. After Easter, this was all followed by a year review and 'skribbl.io' social, an online drawing and guessing game. Attended by both members and staff, the event gave us an opportunity to showcase the work of the committee over the past year!
In the sporting world, the lifting of COVID-19 restrictions allowed for the restart of the football season with both our 6-a-side and 11-a-side teams in action. Unfortunately, the 6-a-side team couldn't follow up on last year's champions league qualification and the 11-a-side team missed out on promotion by just one point. Away from competitive football we played an 11-a-side friendly, resulting in a heart wrenching penalty shootout defeat. We also had six members compete in the inaugural EPS Running Festival, organised by ChemSoc.
More recently, CivSoc has hosted two rounds of elections to fill our committee for the next year and I would like to congratulate everyone who was successfully elected. We would also like to wish Rohan Hornsby and Tim Jena the best of luck, having fittingly received nominations for the EPS Societies' Awards taking place Thursday 22 July. These are for the categories: Inspirational Committee Member (Rohan), Role Model of the Year (Rohan) and Industrial Award (Tim).
Top - Left to Right: Matthew Armour, Joseph Horsey, Will Fall, Gareth Proctor and Gianluca Abbate.
Bottom - Left to Right: Freya Buchan, Joseph Holbrook, Elizabeth Ward and Ellie Harris.
Overall, although a challenging year for all, CivSoc has adapted to the situation extremely well and I would like to thank all of this year's committee for their hard work and dedication. I wish them all the best of luck for the future, particularly those graduating at the end of this year!
If you would like to know more about CivSoc visit their society website.
There are 41 student groups in the College of Engineering and Physical Sciences. To learn more about their projects and activities head to the EPS Societies homepage.