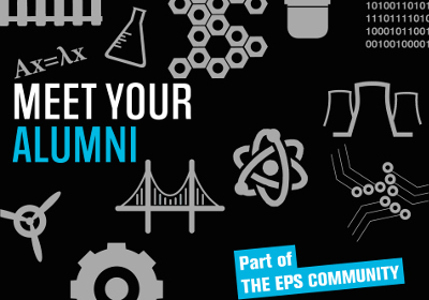 In March 2021, the EPS Community launched the first event series aimed at introducing students to Engineering and Physical Science alumni from a broad range of sectors. More than 70 graduates and professionals took part in 'Meet your alumni', each with a different experience to share.
Organised in collaboration with the College's student societies, the 17 events in the series offered an insight into a variety of careers through lighting talks and virtual discussions. Plus, as a nod to International Women's Day on 8 March almost all our speakers identified as women. Topics included Women in STEM, SHE Engineers, Choosing to Challenge, Resilience and Confidence, How to get into FinTech, and Aero Insight, plus eight sector focused speed-networking events. Full details of the programme can be found at www.birmingham.ac.uk/eps/meetyouralumni.
The series provided the opportunity to introduce current students to the array of opportunities available to them with a science or engineering degree. Many comment that the job market is so vast they don't always know where to start or what their degree could lead to. Where better to gather some advice than from those who have been in your shoes! By introducing students to Birmingham graduates in an informal setting, they are able to gain an insight into possible roles, sectors and experiences open to them. For some events we were even able to invite to prospective students and other recent graduates to help start their careers.
Every speaker was different and therefore had a unique experience to share, which was invaluable to attendees who suitably grilled them! We were joined by new graduates who secured their first job during the pandemic, others who had recently been promoted or changed jobs, and also senior managers or project leaders. All the speakers had one thing in common: a degree from the University of Birmingham.
Thank you to everyone who contributed to or attended 'Meet your alumni'. The alumni who spoke told honest and insightful stories of the experiences they gained as students and how they started their careers, as well as detailed descriptions of their job roles. They answered hundreds of questions and helped shape the first steps to our attendees' careers. None of this would have been possible without the expert proactivity of the organisers from our student groups. Thank you.
- 'Meet your alumni' was brought to you by the College Alumni Office. To find out more about their work, the EPS Community and our alumni, visit www.birmingham.ac.uk/eps-community.
- If you would like to get involved please email our Alumni Relations Manager, Grace Surman on g.surman@bham.ac.uk.