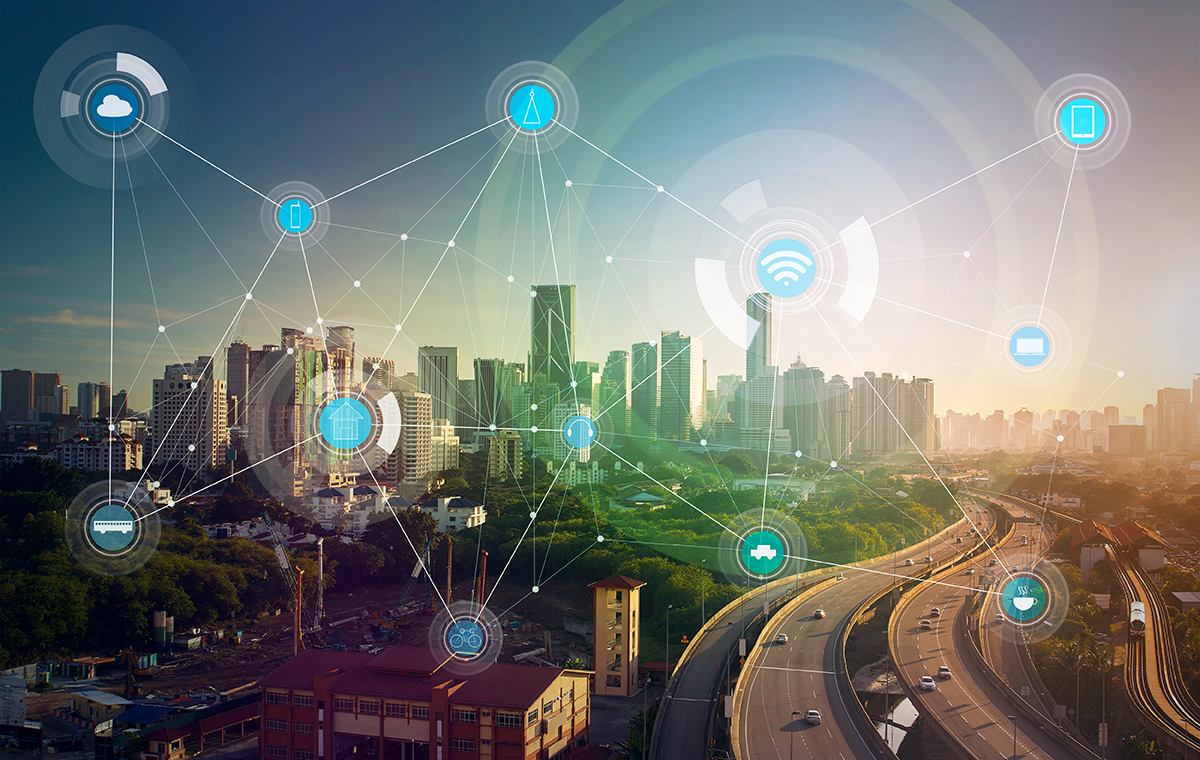 'Smart' is an over-used buzzword within cities, often referring to a product or products that seamlessly connect to the Internet to make everyday life more comfortable, more efficient and enjoyable. However, smartness is more than a technically-oriented ideology. A city is a liveable organism, influenced by several metabolic flows where materials pass into, out of and around its core. All of these influence the way its citizens live, who potentially benefit from a broad range of potential solutions from Artificial Intellect systems - the Internet of Things' - through to utilising data science to its fullest extent. These solutions are never more important than in this current era where carbon forms a critical negative outward flow that is increasingly impacting our everyday practices and procedures, and has led to zero net carbon or plastic-free policy implementation. Through these we can produce a future city now, happy and cohesive for all its citizens for many decades to come.
Whilst smart technology is one tool within a toolbox, it is also essential to better understand how the citizens and city dwellers interact with this agenda. A key question is how this is influenced by their Urban Sustainability and Smartness Understanding (USSU). This is defined by a group of socio-psychological determinants (such as awareness, perception, attitude, and behaviour), shaping the underpinning relationship between humans and the environment in which they live. All elements central to the UAE's centennial 2071 aspirations align with the four pillars as set out, especially when placed within the City/ urban living context.
In this current era, cities seek to better their carbon footprints, energy use, water use and reductions in waste generation that result from the materials we use, the buildings we design and how we operate them through their lifetime. Phrases that describe a material's 'end-of-life' and more so its obsolescence as 'waste' should be seen as just another potential 'resource'. The way cities process these materials requires innovation and smart thinking – supported by a host of smart technologies. For example, in the buried near subsurface space, waste transport by pipeline and multi-utility tunnels that use the space below our feet smartly, avoid a legacy of congested unplanned utility arteries that could clog the lifeblood of the city. Rachel Skinner1, in her recent ICE Presidential interview presented in New Civil Engineer (December 2020), highlighted how 70% of the world's carbon emissions are estimated to be linked to infrastructure. Much of this is associated with cities and, where Smart and Sustainable solutions provide a real opportunity for engineers to affect real change. This change will be hugely significant given that infrastructure is the artery and nerve system of any city. However, a commitment to become a "net-zero city" requires significant commitment and investment across all sectors.
Therein city planners must consider the adverse environmental effects of the materials used in construction against various waste streams' performance of alternatives, e.g. legacy plastics offering alternative construction materials. Likewise, the impact of our buildings' annual cooling energy demands has an equally prominent role to play. Again, smartness requires us to better assess and regulate demands both during and post-construction. Indicators and metrics (which tell us what to measure and provide units to measure) play a significant role so that benchmarks can be set and roadmaps to an end goal created. A city such as Dubai presents its unique context and local conditions, which creates a challenge when utilising generic assessment frameworks. Bespoke resilience and environmental sustainability assessment frameworks can be produced and applied, providing the opportunity for countries across the regions to meet their ambitions in this area and act as a global trailblazer for a more sustainable and smart future.
Material selection in the region forms a significant part of these decisions, and particularly domestic buildings. The choice to use traditional concrete has critical implications for the carbon cost of construction. The selection of alternative materials (e.g. used as fibre reinforcement in concrete or as cement replacements) with lower carbon costs (including those classified traditionally as waste) can provide necessary resource streams, transforming them into higher-value materials for construction and other manufacturing industry applications.
An important question here is: Does re-shaping the way future strategies are generated provide more certainty regarding future decisions, better management of risk and, therefore, a greater appetite for innovation? Also, does this lead to better overall environmental outcomes by enabling partnership delivery with external stakeholders? A range of future scenarios (set against different envisioned futures) provides one such possibility to enable smart, sustainable and resilient solutions to be utilised effectively. The question remains as to whether what is considered smart today will be considered smart in the future – time will tell.
Globally, there is a growing realisation that taking a circular economy approach enhances sustainability and resilience aspirations through the effective interactions with several simultaneous agendas, including economic growth, social development, and environmental responsibility. There are several strategic visions across the region that directly and indirectly map to this, e.g. UAE Centennial plan 2071. There are several varied methodologies will help when associated action plans are developed; for example, a suite of decision-making tools (see below) are available. However, in engineering spheres, these techniques are usually limited to optimising resources, time or costs. Decisions are required that are comprehensive in scope and integrated across all affected systems must transition towards a circular economy. Practical cross-disciplinary thinking is imperative, and cooperation amongst diverse areas is essential. For example, Game theory provides a useful 'smart' technique when analysing stakeholders' interactions with multiple objectives and perspectives, ironing out the conflicts during decision-making processes.
Building construction should integrate both sustainability and resilience into a new-build design at the earliest stages of the decision-making processes to leave a more favourable long-term legacy. For example, in conjunction with Green Building Regulations and Green Rating Systems (see list below), accreditation of these improved levels of performance can help showcase the Gulf region as a world leader in this field:
• Estidama, Pearl Rating System
• Al Sa'fat – Dubai Green Building Evaluation System
• Barjeel – Ras Al Khaimah Green Building Regulations
• LEED – Leadership in Energy and Environmental Design
• BREEAM – British Research Establishment Environmental Assessment Method
We sit at the crossroads of an exciting opportunity to make a real impact and provide a legacy for many decades to come.
Do we have the answers?
Research undertaken by colleagues across the University of Birmingham helps address the wide range of issues that are raised by living in a more sustainable and Smarter City and, through this, offer solutions to the many challenges currently faced by societies the world over. Professor Chris Rogers, Dr Dexter Hunt, and their colleagues work on sustainable and resilient cites (e.g. The Little Book of Circular Economy in Cities: Palafox et al., 20172; Realising visions for future cities: An aspirational futures methodology, Rogers and Hunt, 20193; A Resilience and Environmentally Sustainable Assessment Framework (RESAF) for Domestic Building Materials, Almulhim et al., 20204). Through access to a broader hinterland of activities addressing crucial elements, e.g. the National Buried Infrastructure Facilities, colleagues from across our Edgbaston and Dubai campuses are developing a suite of technologies, approaches and understanding to utilise the urban near sub-surface space better. Work led by Professor Jefferson and his team is developing new alternative materials from a broad range of waste materials, and innovative developments of traditional techniques, providing low carbon solutions to construction and other industries. Further, a wide range of research is being undertaken across the University of Birmingham, drawing from a vast pool of expertise from Data Science, Material Technology and Energy Storage, to AI and Sensor Technologies, all of which play into meeting the challenges of a more Sustainable and Smarter City of the future.
Feeding back knowledge
This research also shapes the Postgraduate programmes that the University of Birmingham offers at its campuses in Dubai and the UK, including the credit-bearing Sustainable Construction, Engineering Production and Risk Management, as well as the System Engineering professional development courses offered at the Dubai campus. Our programmes are conveniently designed to be upgradable to a full MSc in Civil Engineering, explicitly covering the core elements associated with enhancing sustainability. All modules are delivered by colleagues who are developing the next generation of solutions.
About the authors
Professor Ian Jefferson is Professor in Geotechnical Engineering and Head of Education for the Department of Civil Engineering at the University of Birmingham.
Dr Dexter Hunt is Lecturer in the Department of Civil Engineering at the University of Birmingham.
Find out more about our MSc Civil Engineering programme here
1Rachel Skinner was recently appointed President of the Institution of Civil Engineers in the UK
2Giovani Palafox, Susan Lee, Chris Bouch, Dexter Hunt and Chris Rogers (2017). The Little Book of the Circular Economy in Cities: A Short Guide to Urban Metabolism and Resource Flows Imagination Lancaster, Lancaster University, UK
3Chris Rogers and Dexter Hunt (2019) Realising visions for future cities: an aspirational futures methodology. Proceedings of the Institution of Civil Engineers – Urban Design and Planning, 172 (4), 125-140. Https://doi.org/10.1680/jurdp.18.00010
4Mohammad S. M. Almulhim, Dexter V. L. Hunt and Chris D. F. Rogers. (2020) A Resilience and Environmentally Sustainable Assessment Framework (RESAF) for Domestic Building Materials in Saudi Arabia. Sustainability 2020, 12, 3092 p24; Https://doi:10.3390/su12083092