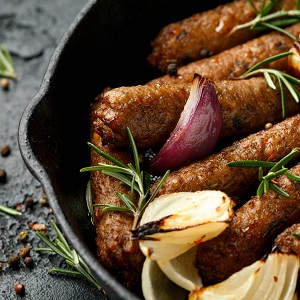 AltaBioscience is sponsoring the Plant-based Product of the Year Award at Food Matters Live 2021, which is running virtually on 29th and 30th June.
The event showcases and celebrates innovation in food, beverage and nutrition, and the award aims to highlight innovation in the plant-based food sector.
Recent polls have shown that an increasing number of Brits are trialling vegetarian or vegan diets, and the Vegan Society's Veganuary campaign reported a record number of sign-ups in 2021 with over 582,000 people signing up to eat vegan for the month of January1.
AltaBioscience, which delivers rapid amino acid analysis for the food, drinks and nutraceuticals industries, has also benefitted from this switch to meat or dairy-free diets, and has seen an increase in requests for plant-based food analysis in recent years.
The company's two amino acid testing services provide quantification of all 20 natural amino acids as well as some non-standard amino acids. Its total amino acid service quantifies the amino acids bound within proteins along with those present as individual unbound units, and the free amino acid service determines the amount of each amino acid not bound to a protein – information that is particularly important in the analysis of Taurine in pet foods and sports nutritional supplements.
AltaBioscience is a spinout from the University of Birmingham. Accredited to ISO17025:2017, the company prides itself on its scientific expertise and delivers customer support from highly skilled specialists, who provide assistance throughout the whole project.
Marion Peak, Managing Director at AltaBioscience, said: "We are delighted to be sponsoring the plant-based product of the year at Food Matters Live. There are now some 7 million adults in the UK following a meat-free diet. To serve this growing need, food and drink manufacturers are looking at the next must-have plant based ingredients and extending the range of foods available."
ENDS
For further media information please contact: Ruth Ashton, University of Birmingham Enterprise, email: r.c.ashton@bham.ac.uk
For further information view AltaBioscience's amino acid analysis services, email info@altabioscience.com or phone +44 (0)1527 584495.
About AltaBioscience
AltaBioscience provides amino acid analysis, protein sequencing and custom peptide synthesis services globally, with a heritage dating back to 1973. The company serves an international customer base that includes academic, pharmaceutical, healthcare and food industry related researchers, and product development specialists.
AltaBioscience has recently been re-accredited at ISO/IEC 17025:2017 by UKAS, the National Accreditation Body for the United Kingdom, for its demonstrated expertise, technical ability and commitment to quality in both amino acid analysis and N-terminal protein sequencing.
Reference: