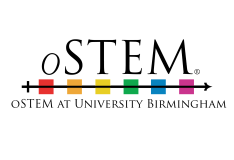 Since our last update in the Autumn term, oSTEM has been busy! The year continued to be online with our usual events being adapted to a virtual forum. This ended up giving us the unique opportunity to alter some of our events to be more interactive and more inclusive!
February was LGBTQ+ History Month 2021 and also our busiest month. Usually we would host weekly coffee socials with in-person presentations about LGBTQ+ STEM history. As everyone attending was already using technology to talk to us (via our Discord Server), we utilised various different mediums to make the presentations more interesting and interactive. This included Pictionary using key LGBTQ+ STEM historical words, online quizzes and an original anagram-timeline game created by our First Year rep!
In February, we also hosted the third iteration of our annual conference: STEM, LGBTQ & You 2021. This was our most successful event yet with over 200 registered attendees! We altered the event to be fully online by using a combination of webinar software and a 2D virtual space called 'Gather' for socialising. We also sent out 'swag boxes' to those that requested them (i.e., conference goodies such as oSTEM-themed pens, pencils, stickers and badges) which were very excitedly received.
The event included a logo treasure hunt across the virtual space and socialising sessions to network with others at the conference! We were also lucky enough to secure funding from the Biochemical Society, oSTEM Incorporated, IOM3, the BCS (British Computer Society) Birmingham Branch, London Mathematical Society, and HackTheMidlands. Thank you to them for their support!
We also had the opportunity to hear from speakers across different countries due to the online nature of the conference. Using the tools we had available, and a little bit of creativity, we managed to create a new virtual experience that allowed more people to attend from across the world. So, despite the difficult year, needing to virtualise the event actually ended up working in our favour!
If you would like to watch any of the talks from the day you can find them all on the conference YouTube channel.
Along with all the altered events we hosted, the new layout for the academic year (shifting from a three to a two-term structure) provided a unique opportunity to introduce some new events into oSTEM's calendar. This included creating a spring meal, a replica of our annual winter meal, which we hope to continue in the future! We also had time to collaborate with the LGBTQ+ Association to host a photography competition. When people think of things invented by LGBTQ+ inventors, they typically think of complicated machinery and technology. LGBTQ+ people have contributed to the development and popularisation of far more basic things, such as food! We selected peanuts, sweet potatoes and soybeans as the subjects of the competition, which people could use in any way they wanted to create an art piece recognising this aspect of LGBTQ+ STEM history. These were then submitted to the photo competition under the following categories: STEM, Funny, and Out There. The winners can be seen below! Please note that the Funny category winners requested their images not be posted, rest assured they were hilarious.
Our final big event of the year before winding down for exams, was Equal in STEM 2021, in collaboration with WISE, BEaMS, and the new 93% Club. This was an exciting few days of panels, with one running each day during lunchtime discussing common barriers that people in STEM face. The event brought together students, researchers and professionals from all across STEM to explore these important issues. The panellists brought a fascinating range of viewpoints, leading to an excellent and very enlightening week! There were certainly some challenges in the move to online, but it was wonderful to see a wider range of people be able to attend as a result.
Throughout all of this our amazing committee continued to run weekly virtual quizzes and coffee socials for our oSTEM members each week! This gave people a space that they knew would be available to them regularly and allowed for an escape from such a difficult year.
Finally, as the outgoing Chair, Claire would like to say thank you to her committee for their hard work and good luck to Jackie and the new committee for the upcoming year!
Claire and Jackie
Outgoing and Incoming Chairs of oSTEM at University Birmingham
If you would like to know more about oSTEM visit their society website.
There are 41 student groups in the College of Engineering and Physical Sciences. To learn more about their projects and activities head to the EPS Societies homepage.