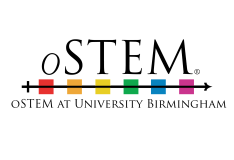 oSTEM has something exciting to announce… STEM, LGBTQ & You is back!

This is a conference organised by the two Birmingham oSTEM chapters looking at LGBTQ experiences in STEM. We usually have around eight speakers and a panel, as well as networking sessions discussing key issues and experiences for LGBTQ students and professionals in science, technology, engineering and maths…and swag too! This is the third year in a row we have hosted this fantastic conference and we expect it to be as just successful as all our previous events; so, make sure you save the date for this award-winning conference!

This event is designed for everyone, regardless of whether you have a STEM background or identify as LGBTQ+. We welcome everyone who wants to learn more about a diverse range of subjects and/or how people who identify as LGBTQ+ experience the world of STEM.

This year the Conference will be virtual and we hope this will enable many more of your to join us. There's more detail to come but for now, make sure you register and follow our social media with @STEMLGBTQYou on Twitter and Instagram.
For STEM, LGBTQ & You 2021 we have our largest organising committee ever. We have volunteers from both oSTEM at University Birmingham and oSTEM Birmingham Professionals and Postgraduates, plus volunteers from across Europe who have worked with us before. It's going to be brilliant!
Are you interested in speaking at the Conference? Have something to say about your experiences as a member of the LGBTQ+ community in STEM? Contact Claire, our Programming Lead, at stemlgbtqyou@gmail.com to express your interest.
The Conference has also been awarded a Diversity in Science grant by the Biochemical Society! We are incredibly grateful that our grant proposal was successful, as this will enable us to use a new software platform that is accessible for a much wider range of people. With this generous funding we can also bring in a more diverse range of speakers! Thank you to the Biochemical Society for this opportunity.
I hope you're all as excited for the third year of STEM, LGBTQ & You as we are here at oSTEM. We can't wait to virtually see you there!
Claire
Chair of oSTEM at University Birmingham
To find out more about oSTEM visit their website www.birmingham.ac.uk/eps/ostem.
There are 42 student groups in the College of Engineering and Physical Sciences. To learn more about their projects and activities head to www.birmingham.ac.uk/eps-societies.