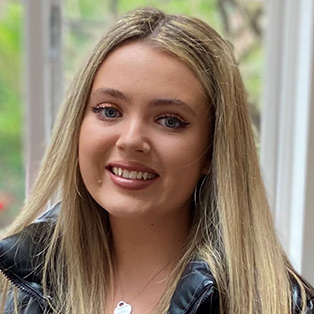 BA History student Mia Fitzgerald tells us about studying at the University of Birmingham
Hi, my name's Mia and I'm from Manchester. I'm currently in second year studying History.
I mainly chose to come to Birmingham because I fell in love with the campus and the whole vibe of the university when coming to the Open Day. I remember it was a really hot day and it just felt so idyllic! I could just really see myself here. The university also put on a coach tour of the city, which I also really liked. Considering Birmingham was ranked highly for history, it just seemed like the icing on the cake! The modules all seemed interesting and the whole department seemed welcoming and supportive. With everything combined, Birmingham seemed perfect for me.
I actually have two favourite modules, both of which I've taken this year. The first module was '1619 and the Making of America'. I enjoyed this module, because it just felt very current, along with the Black Lives Matter protests over the summer and Trump's presidency in America. 'The 1619 Project' has only recently been established, in order to readdress America's history and its founding ideals, instead looking at the beginning of American history from when the first slaves arrived from Africa. I just found it to be a very interesting perspective, tracing back current themes of racism in America to life on the plantations. My other favourite module has been 'Global History of Gender and Sexuality'. This has been particularly interesting, as it covers a wide scope of time as well as place. I am particularly interested in gender history, as I feel it is important to give back the voices of those silenced by history. However, I have found it very refreshing to look at various places including China, Brazil and Ireland, which I haven't otherwise studied. I have also loved the chronology, beginning with Medieval China and progressing to more modern themes such as the drag and ballroom scene.
I wouldn't say there's a massive jump in terms of difficulty, I personally feel like the biggest challenge is getting used to such a different style of learning. Going from classroom lessons to lectures and seminars is a whole new experience, but I feel like you get used to it quite quickly. I would say that the essays are definitely harder - you have to do a lot more independent research to find sources and and understand how to reference. But, I feel like there's lots of support available from lecturers or seminar tutors as well as the Academic Writing Advisory Service, so there's always someone to turn to if you feel like you're struggling. The main difference in terms of content is the fact that rather than focussing on a few subject areas in a lot of detail, you cover a much wider scope, so that you can learn what you like and dislike, which will help when narrowing down options in second year.
For me, I think that the most challenging aspect of studying my course has been tackling the essays. So much planning and time management goes into an essay and I feel like it's taken me a while to get into a good routine and know how many days to set aside to research and write an essay. However, I have always felt supported by the university. If I'm stuck, I will always email the appropriate lecturer or seminar tutor, and they are always willing to help with any questions that I have, or suggestions for how to improve past essays. It is these things that have really helped me to get into a routine when writing essays and improve my marks.
I would say that the highlight of studying my course is just meeting like-minded people. In terms of my course, I enjoy seminars the most, as you can really discuss the work for that week and get to know a smaller group of people. I have made some of my closest friends from meeting them in seminars. The discussions are always engaging and it's nice to be able to get to know your seminar tutor on a more one to one basis.
I haven't completed a dissertation yet, as I'm only in second year. However, I'm planning on focusing my dissertation on changing beauty standards and ideals in post-war America.
I don't currently have any fixed career plans for after university. However, there are a few things that do massively interest me. I really enjoy writing, so would consider journalism or something that involved blogging or another informal writing field. Or, I could potentially see myself working in media marketing or another creative outlet. The media has always interested me, so I would jump at the chance to be involved in the industry in any way possible. As you can probably tell though, I still haven't made up my mind!
I am part of the History Society at the university. The main activity that I participated in last year was the history bar crawl which was so much fun. Everyone had matching blue t-shirts and it was a great way to meet new people from my course in a much more informal setting. It was definitely a highlight of freshers for me. Another thing that I participated in was the history ball, which was equally fun. It was a great way to round off the term and get dressed up. I thought it was really well organised and another very memorable experience.
I would say that my favourite thing about my course is the wide range of modules to choose from. From speaking to some of my friends from other courses, they are much more limited in terms of what they can study. Whereas, I feel like studying history really gives you the freedom to make your own decisions and study what you really enjoy. If you want to, you can really specialise in one particular subject area and choose modules solely related to that. Or, like me, you can do a bit of everything, broadening your horizons. I feel like this freedom has helped me to really enjoy my course as opposed to seeing it as a chore, as I'm learning about things that I'm genuinely interested in and gaining new insight from lecturers who love what they do and are willing to share their knowledge.